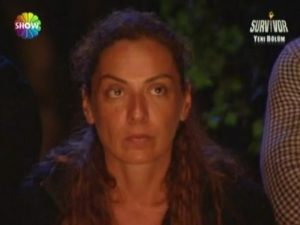 Another story came to an end for Sibel Tüzün though just three weeks has passed since the latest serie of Turkish Survivor started. Sibel, who represented Turkey in 2006, ending up being the first name to be eleminated from the celebrity team.
The first serie of Survivor broke the TV records in Turkey and then
the reality show continued with other episodes including some off-shoots
such as Survivor Male – Female, Survivor Turkey – Greece and
so on. Lately, the format is based on publicity and celebrity where well known names including singers, football players etc. making a team
against a civilian team. After the success of the last serie, the
producer of Survivor in Turkey, Acun Ilıcalı, decided to stick with to same format once again.
A couple of weeks ago we were able to tell that former Turkish representative Sibel Tüzün would be attending the reality show; taking part amongst the team of celebrity. This also included another celebrity Nez, who's been speculated a lot as a possible Eurovision Song Contest participant from Turkey.
In the first show, a big suprise were waiting for us: Nez couldn't handle the air conditions of the Dominique Republic where the show is been held and therefore she had to withdraw. Later in the first programme, a name from the publicity team, Anıl, was sent to celebrity's team to equal out the strength of the two teams.   
During the weeks, Sibel Tüzün was overhanged with the situations inside her team, having arguements with the other members, especially with the oldest member, Mustafa Topaloğlu. The viewers also got to see that Sibel was crying everyday due to homesick as she left her baby at home. Her eyes were therefore swollen most of the time.
A couple of days ago, the celebrity team lost their franchise and Sibel Tüzün and Anıl was selected for the latest duel by the other members. It was then up to the TV viewers to decide who should leave the island. They decided that Sibel Tüzün should not continue in the programme anymore and with a dramatic exit she had to say goodbye to her team mates. 
Sibel Tüzün represented Turkey at the 2006 Eurovision Song Contest with the song Superstar. That yearTurkey managed to qualify to the final where they finished 11th. Below you can watch the preview video: