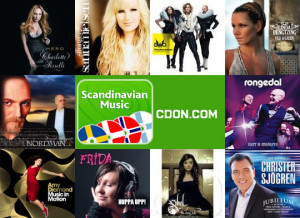 Most of the ten finalists from the Swedish selection will have a busy summer. Many of them have recently released a new album or are about to and the summer will bring concerts in Sweden as well as in Europe.
Charlotte Perrelli is currently finalising the album to back up her entry for the Eurovision Song Contest. The album, that carries the name of her entry; Hero, will be released the 23rd of April. It is available for pre-ordering right now.
Sanna Nielsen has plans for a summer tour, but it is not completely finalised yet. It is sure though that her coming solo album with the title Stronger will be released the 16th of April. That album is also available for pre-ordering.
BWO will this summer be concentrating on their European career. They are preparing for an extensive promotion tour around Europe, but are at the same time releasing an album called "Pandemonium". It will be a single collection featuring many of their biggest hits, included is of course Lay your love on me from this year's Melodifestival. The album will be released the 9th of April and can of course already be pre-ordered.
Rongedal, that came 4th if the Swedish final, will be releasing their debut album in May. It has not yet been given a title and there is no plans known for a tour either. The album is currently set to feature a release on the 21st of May and is available for pre-ordering.
Rongedal – (No album title known yet)
Linda Bengtzing will have a busy summer with various tours around Sweden. Her album "Vild & Galen" was released the 19th of March and is already selling well. Among the 11 songs on the album is of course her Hur svårt kan det va that came 5th in the 2008 Swedish final.
Linda Bengtzing – Vild & Galen
Nordman is touring in Sweden and Finland this spring and summer. Their album "Djävul Eller Gud" (Devil or God) was released 12th of March and is currently selling well in Sweden. No waiting time here so go ahead and add it to your collection.
Sibel has a few concerts this spring, but has not yet announced any plans for the summer. Her album, "The Diving Belle", is however doing well on the Swedish charts so who knows what the future brings for her. Again an album with no waiting time as it was released the 12th of March and it is of course featuring her song in Melodifestivalen That is where I'll go.
Amy Diamond will be concentrating on school this spring and summer, but has released an updated version of her "Music in Motion" from November last year. This new version is called "Music in Motion – gold edition" which now includes her MF entry Thank You. A karaoke version of that and two other songs are also featured as well as the video to her hit single Stay My Baby. The gold edition is on sale now as it also was released 12th of March.
Amy Diamond – Music in Motion (Gold Edition)
Christer Sjögren has been in the music business for 40 years and is celebrating that with a double CD featuring 40 of his many hits. He is a busy man and will be performing on Gröna Lund and Liseberg all through the summer. In the autumn he will be doing an anniversary show to celebrate the 40 years. The double CD was released the 26th of March.
Christer Sjögren – Jubileum 40 år med Christer Sjögren
Frida is performing in various clubs this spring while so far there is no big plans for the summer. Her debut album was released last summer and a new edition of that has been released recently. The new edition is called "Hoppa Upp" and it is of course featuring her Swedish finalist song Upp och hoppa. It was released the 12th of March and is therefore one of many albums you don't have to wait for.
By buying through these links you support EuroVisionary.com and we would like to thank you in advance.