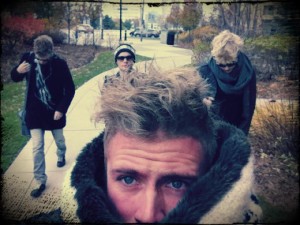 Four humble boys are in Canada to make their dream come true – or in other words – A Friend In London is there to record their debut album in surroundings they never imagined. It has taken seven years, but now the time is right and beginning of next year the album will hit the stores. 
The fun began on the second of November when they met their producer 3 times Grammy Award winner David Bottril and it was clear from the start that this was something that amazed the four humble Danish boys. On their Facebook page they told that it was a dream come true for all of them, but that in particular Ben reacted with open mouth when their manager told that David had just arrived back from Chicago finishing the new album from Smashing Pumpkins.
A few days later they concluded that David Bottril is bringing out the best in them and that they were looking forward to soon be hanging on the wall of fame at the legendary Metalworks Studios next to artists like Prince, Christina A, Sting, Guns N Roses, Backstreet Boys, David Bowie and Nelly Furtado.
On November the 7th the recordings started and on the 11th they had a ten minutes online cam session live from the studio to say hi to their fans where they told that everything was going according to schedule and then they instructed their fans on how to send Christmas presents to them.
Sunday the 13th they concluded that the drum recordings were now all in place. This week they are focusing on the bass tracking.
A Friend In London will return home from Canada on the 6th of December where they have invited their fans to celebrate the album with a "Goodbye Canada – Hello Denmark – get together" at Copenhagen Airport.  
The band that ended 5th at this year's Eurovision Song Contest with the song New Tomorrow has been together for seven years, but has wanted to wait until everything was perfect to release an album, that time has come now. Below you can see the performance of their Eurovision Song Contest entry.