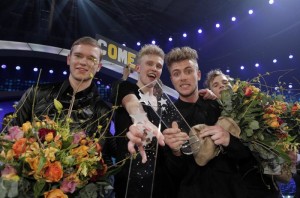 A Friend In London left for Canada today for the recording of their debut album. When they in December again will have Danish ground under their feet they want to celebrate with those fans who are there to greet them at the airport.  
A Friend In London who came 5th at this year's Eurovision Song Contest representing Denmark with their song New Tomorrow has been together as a group for eight years, but they have wanted to wait with their debut album until they felt it was perfect. Now the material is ready to be recorded and then shortly after released on the market. Early this morning they flew to Canada, another place where they have had a big success. Here they will record the album.
At first they were planning a "Goodbye Denmark – Hello Canada – get together" with their fans, but as their flight got changed they swapped it around to be a "Goodbye Canada – Hello Denmark – get together".
If you want to be a part of celebrating the band being back in Denmark and a hopefully successful recording of their album you need to come to Copenhagen Airport on the 6th of December at 11 o'clock AM.