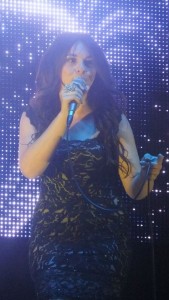 Grecia Bezzina has just won the special public award at the 2012 Canzoni dal Mondo festival in Maiori, Italy.  She participated with the song I Can't Stop Thinking Of You.  Grecia was on the 2012 Malta Eurosong stage this year as a backing singer for Francesca Borg and has participated in many music festivals in Malta and abroad.
The song was composed by Philip Vella, who has composed many Maltese Eurovision entries with Gerard James Borg including the songs for Claudette Pace (2000), Ira Losco (2002), Julie & Ludwig (2004) and Olivia Lewis (2007).
Grecia recently participated in the 2012 L-Ghanja tal-Poplu competition with the song Tal-Komma Twila composed by her brother, Dario.  She finished in second place in that festival.
Grecia and Dario will perform together at the forthcoming Konkors Kanzunetta Indipendenza contest in Malta with the composition Se Nibda Jien written by Dario and Rita Pace.
Unfortunately, there is no video of Grecia performing in Italy but you can her see her perform her L-Ghanja tal-Poplu song below.