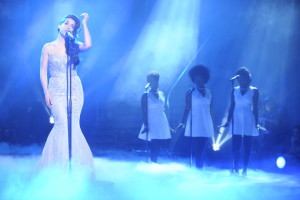 This evening in Barcelona the national final to decide who will represent Spain at the 2014 Eurovision Song Contest, took place. From Spain it was decided that it will be Ruth Lorenzo who will be flying the flag in Copenhagen with the song Dancing In The Rain.
After two years of internal selection, the Spanish broadcaster TVE was back hosting a national final. That decision was very appreciated by the fans who, since the names of the five candidates were revealed, have been supporting their favourites. They have received so much support that, besides their names have been among the trending topics on the social media almost every day, their potential Eurovision entries have already reached top positions in the charts of the main digital stores in the past days.
Five established artists met this evening with one purpose, do their best to win the right to represent their country at the Eurovision Song Contest, knowing that only one of them would make it.
More information about the five participants can be found in our Get To Know article.
The songs:
1. Brequette – Más (Run) (T & M: Thomas G:son / Tony Sanchez-Ohlsson)
First on stage was Brequette who catches you from the first second of this engaging love song which perfectly showcases her raw talent: a beautiful voice that captivates audiences. She has the vocal strength and the subtlety of emotional shading to
deliver her song effectively and it seems there is no limit to what she
can achieve. This melodramatic ballad starts very introspective with a piano melody that makes an instant impact and moves out of the way allowing an entry point for Brequette's stunning delivery. The first verses of the song are in the English language, but right after the first chorus it changes smoothy to Spanish (with which Brequette's voice sounds much more comfortable) and then the song grows and becomes very explosive at the end. She was alone during the whole performance which started with her on the centre stage, all the lights off, and lots of green laser lights coming out from the ceiling projected on the ground around her. After the first chorus the lights came on with the stage lit in dark purple. Brequette wore a short white dress with long sleeves and black ankle boots. On the screens one could see orange images which looked like real fire. One is blown away by the power of her voice and she reached the high notes effortless without actually screaming. The song is memorable, but what holds it back is the tempo which is too slow at times, however, she makes up for it with passion and precision. She is a fabulous vocalist with more than enough talent and quiet charisma and that is a lethal combination in this evening's competition. The nerves invaded her throughout the whole performance and she ended crying.
2. La Dama – Estrella Fugaz (Shooting Star) (T &M: Ramón Melendi)
It starts out with a mysterious tone, but when it reaches the chorus it explodes with energy and intensity becoming a classy dance song with an electronic arrangement. Her voice is ever-intriguing at first, but later it perfectly fits the accelerating beats. She has a great stage presence and she had the right staging. She spent most of the time at centre stage while performing a simple but carefully prepared choreography with her arms that was in line with what she was saying. Her attire was not very appropriate to this kind of song since she was wearing a long white dress, lovely and perfect for the wind machine, but unsuitable for the music style she was singing. The stage was lit in pink and blue with yellow and white flash lights and the backdrop was reminiscent of a starry sky. She was accompanied by a keyboardist, a bass player and a DJ. Despite the song is lyrically perfect and the dance beat is really fresh, this formula is a bit dated and that is why this was probably the weakest entry of the night. 
3. Ruth Lorenzo – Dancing In The Rain (T & M: Ruth Lorenzo / Jim Irvin / Julian Emery)
Let's be clear from the outset. Ruth Lorenzo is an amazingly gifted singer with an uncanny ability to stretch her voice from the lowest growl to the highest celestial tones. In this song, she maintains her voice in a hushed, almost spoken manner during the verses, but then makes full use of her high-end range as the song enters the chorus. English and Spanish languages are mixed just right in the lyrics of this ballad, which has an encouraging message. Ruth showed off her vocal talents brilliantly and at times she had an operatic singing style. The song arrangements are amazing but maybe the pace should be improved as it seemed a bit monotonous and it does not grow enough after three minutes, nothing that Ruth can't make up with some long notes. The staging was very simple with her on top of a platform wearing a beautiful tight gray long dress with silver trim. The stage was filled with dry ice and the lights were blue with a dark backdrop. She was joined by three female backing singers dressed in white which were located to her right and a piano player to her left. Ruth can certainly deliver a live performance and she was able to make the song sound better live than on the studio version.
4. Jorge González – Aunque Se Acabe El Mundo (Even If The World Ends) (T & M: Kiko Rodríguez / Bruno Nicolás / Leticia Fuentes / María José Fernández) 
The running order decided that the three ladies performed first this evening, but then it was time to listen to the boys. Next up on stage was Jorge González with his song Aunque Se Acabe El Mundo. There is absolutely nothing wrong with this song. It is very well produced and Jorge is a great performer, but there is also nothing particularly special about it. This is just a typical latin pop song with an infectious hook and a nice dance beat. It is a catchy song that puts you in a good mood so we could predict this song will be a huge hit this summer but that does not guarantee it could do very well at the Eurovision Song Contest. Jorge started his performance on a platform up on the backs of two of his four male dancers all of them dressed in black. Jorge wore a shiny black jacket and black trousers. They left the platform right before the first chorus and performed an energetic choreography to which Jorge joined with some movements occasionally. They pretended to be violin players using fake violins as part of the choreography. His live vocals were a bit weak and out of tune at times and he mistook the lyrics omitting some parts maybe because he was very nervous or very focused on the choreography. The stage lighting was pink and purple with orange images on the screens. 
5. Raúl – Seguir Sin Ti (Going On Without You) (T & M: William Duque / Domingo Sánchez)
It was great seeing Raúl back in a Eurovision national final and even better listening to him performing one of those ballads where he can really show off his amazing deep voice. His entry is a pleasant ballad with a lovely melody but sadly this is something we have heard many times, very generic, a little dated and even a bit boring. The lyrics are very touching as it talks about how to go on living when you lose the person you love and it was very moving seeing that Raúl was really into this role. He kept his position at centre stage during the whole performance dressed very stylish in a black suit, black shirt and bow tie of the same color. He was accompanied by five musicians on stage: a drummer to his right and four female violin players to his left dressed in black. The stage lighting was dark blue with some purple images on the screens and a white spotlight pointing to him. Even though the song have some difficult vocal parts, he was vocally flawless. 
The show:
Mira Quién Va A Eurovisión (Look Who Is Going To Eurovision), which is the name TVE has chosen for this year's Eurovision national selection, kicked off at 22:00 CET and it was hosted by Anne Igartiburu. She is well-known after having presented the Spanish national selection shows many times before and also because she was the Spanish spokesperson in 2002, 2003 and 2004.
The show began with Anne singing the ABBA's hit Waterloo whose lyrics were transformed to explain what we were going to see at the show. She was accompanied by a dance troupe composed of three women and three men. She introduced the jurors while singing Israel's entry A-ba-ni-bi and told us about the host country, Denmark, while singing Dana International's Diva. Then we saw that on stage was a woman whose body was painted as a replica of Copenhaguen's Little Mermaid who was actually singing.
The studio was the same which is currently being used for the show
Strictly Come Dancing so the stage was immense with plenty of lights and
huge screens in the backdrop. It was crowded with more than two hundred
Eurovision fans who had won their tickets by a competition, which was
arranged by the broadcaster on the social media.
Our five hopefuls took the stage performing a few verses of their songs each and right after the televoting opened. They sat on a couch which was in the set and where there were a present for each of them but they could not be opened yet. We also saw some images of how was the draw to determine the running order of the show.
Anne explained briefly what would be the dynamics of the show and how the winner would be chosen. Then, the three recognized singers who made up the jury were introduced. They were Mónica Naranjo, Merche and David Bustamante (candidate to represent Spain in 2002 and backing singer for Rosa that year).
Each performance was preceded by a video that featured the five contestants. The one was next up on stage stepped forward, introducing themselves, explaining why they want to represent Spain at the Eurovision Song Contest, asking to the audience to vote for them and promising to do something risky in case of winning. After each performance, in addition to listening the jury's feedback, the hopefuls could see a video in which people from their hometowns including their relatives showed them their support. Then all of them opened the gifts that were waiting for them from the beginning of the show. Brequette received a drawing made by his son, La Dama got a necklace that belonged to her deceased grandmother and a picture from her family and Ruth Lorenzo's family sent her a vinyl album of the soundtrack of Disney's movie The Little Mermaid which her mom played for her to sleep when she was little. Jorge González was touched when he received a suit from his baby boy and an ultrasound of his daughter while Raúl got a ring that has been one of his amulets throughout his career and a four-leaf clover which is a symbol of good luck.
During the whole show we were treated with several reprises of what each of the artists did when the show began to remind the audience the televoting lines were open.
Some Eurovision fans also gave their opinion about the five candidate entries in a video and some representatives of the fans were also on stage speaking about what it means being a huge fan of the Eurovision Song Contest. The Little Mermaid of Copenhagen also starred the interval act talking to the hostess. It was really fun to hear her speaking with the distinctive accent of the people from the southern Spain.

Gisela, who represented Andorra at the 2008 Eurovision Song Contest with Casanova and was also one of Rosa's backing singers in 2002, performed during the interval act a medley of Eurovision hits which included versions of Satellite, Only Teardrops, Euphoria and Europe's Living a Celebration. Some people from the audience were ready to join her during the performance as part of the group of backing dancers.
The results:
The winner was chosen in a 50% televote and 50% expert jury voting.
The votes of the jury were as follows:
Merche – 6 points: La Dama; 7 points: Raúl; 8 points: Jorge González; 10 points: Ruth Lorenzo; 12 points: Brequette.
David Bustamante – 6 points: La Dama; 7 points: Raúl; 8 points: Jorge González; 10 points: Ruth Lorenzo; 12 points: Brequette.
Mónica Naranjo – 6 points: La Dama; 7 points: Raúl; 8 points: Jorge González; 10 points: Ruth Lorenzo; 12 points: Brequette.
And televoting results were as follows:
18 points: La Dama; 21 points: Raúl; 24 points: Jorge González; 30 points: Brequette; 36 points: Ruth Lorenzo.
It was a tie between Brequette and Ruth Lorenzo. The votes from the audience prevail thus, the winner was Ruth Lorenzo with the song Dancing In The Rain.
Spain at the Eurovision Song Contest:
Spain debuted in the Eurovision Song Contest in 1961 and it has been taking part each year since having won it twice, first in 1968 with the song La, La, La by Massiel and again one year later when Salomé's song Vivo Cantando was involved in a four way tie.
Since 1999, it is one of the Big Five countries and therefore it is automatically allowed to participate in the final. In recent years the position of Spain on the scoreboard has been quite irregular and to find the latest Spanish artist who entered the top 3 we must go back to 1995 when Anabel Conde reached the second position with Vuelve Conmigo.
After a disappointing result in 2011 (23rd), TVE decided to send an established artist in 2012, Pastora Soler, who achieved a top ten result for the first time since 2004. Last year, the band El Sueño De Morfeo was also picked internally and they finished 25th in the final with only eight points.