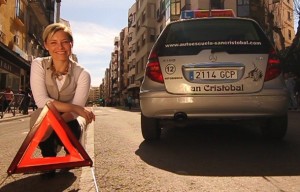 The program will feature Soraya's challenge in obtaining her driver's license. She will find time in her busy schedule to attend driving school to the day she actually holds her license in her hands. This new show called Famosos Al Volante will begin airing on La Sexta from May 4th at 21:30 CET.
La Sexta premieres next Friday at 21:30 the tv program called Famosos Al Volante (Celebrities At The Wheel) in which a group of students will be trained to get their driving license at the San Cristobal's driving school from Cuenca, well known as the driving school of the celebrities.
Along with Soraya, who represented Spain at the 2009 Eurovision Song Contest with the song La Noche Es Para Mí, there will be anonymous students and other celebrities who will be behind the wheel for the first time in their lives. They are, among others, the actor Agustín Jiménez, the dancer Rafa Méndez and the singer Falete who last summer offered himself to be chosen as the Spanish representative for the upcoming Eurovision Song Contest.
During their stay in the beautiful city of Cuenca, all the participants will attend an intensive course of theory classes from eight in the morning until nine at the night. The students will be divided in two groups and in the first episode we will see how they attend their theory classes. The second episode will be focused on actual driving lessons. Students will tour Cuenca with their cars and at the end of the journey they will face the dreaded exam. For two weeks they will learn how to drive a car following the peculiar method for driving invented by the teacher Rafael Lozano.
The program will only show them trying to get their driver's license so there will be no space to go into their private lives. The program will be full of good times and viewers will see them attending their classes, studying and enjoying everything they do to learn how to drive a car.
For this first season there will be four 70-minute weekly programs that will show how these celebrities will be integrated with other students and they will try to pass their exam following this new revolutionary method.