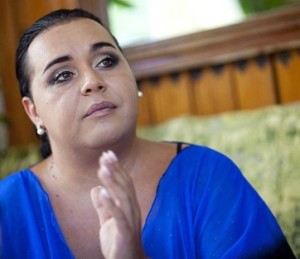 Falete offered an exclusive interview with the website eurovision-spain in which he said that he would be pleased to fly the Spanish flag in Azerbaijan as long as TVE selects him internally. He is one of the best flamenco and copla singers in Spain and very well known to the Spanish public.
Spanish singer Rafael Ojeda Rojas, better known as Falete, has declared his availability to represent Spain in Azerbaijan. According to the information published on this Spanish fan site he would be happy to represent Spain as long as an internal selection is made.
Falete is one of the most popular flamenco singers in Spain. The controversial artist, known for singing flamenco and copla standards originally performed by women, has been in the center of media attention since he shot to fame in 2004 because of his "ambiguous" image. He stated his wish to represent Spain in the Eurovision Song Contest saying: "here I am. I offer myself to TVE if they want to invite me personally for being the 2012 Spanish representative". A few minutes after the interview was published the news spread up to become a hot topic on major social networks like Twitter.
He said that he would be ready to perform a selection of several songs on a televised show and it would be the audience who would choose among them which song is the most suitable for the Eurovision Song Contest. He is very confident to the point that when he is asked about how he could engage the European audience he said "if I go to the Eurovision Song Contest I wouldn't need many stage elements because I am much myself. So I think that just me on stage would be enough".
Now, he is about to release in America, his fifth studio album, called Sin Censura (Uncensored), where he offers a renewed repertoire with some flamenco but especially rancheras, boleros and ballads. It will be also released in Spain in November.
Last year, Spanish broadcaster RTVE offered the possibility to join the final phase to any established artist but nobody applied.
In the video below you can watch the official videoclip of Falete's song Quédate En La Calle: