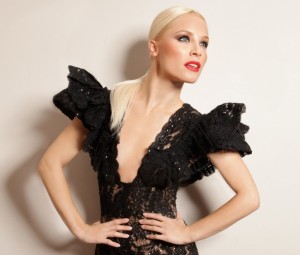 A long and successful career has made Soraya an experienced artist. After representing Spain at the 2009 Eurovision Song Contest and achieving the first position on European charts,  she has made the decision to leave her label and edit her music by herself – with her fans helping with the finances.
She says that it is a well-considered decision and she believes that this is the best incentive to keep moving forward, opening up new doors and doing new things that will lead her down new paths.
Soraya wants to start this new phase with a tour called Acústika which means Acoustic, which could be the sign that she is planning a renewed dimension of her musical style known so far.
Coindicing with the tour, she will release a new single entitled Con Fuego, a dance song with a lot of rhythm and Latin flavor, that will arrive together with a music video where will be used the most advanced and spectacular audiovisual techniques. The crowd funding is how to get it and make the fans may participate in the new project of Soraya.
In addition, she offers to her fans to participate in the filming of a short film. The movie will have an open ending and for those who guess how it ends there will be a special surprise. The script is based on the new single and in the shooting were taken as references films like Seven and Basic Instinct.
The funding target is 30,000 Euros and she has to get it in the next 80 days. For those who contribute with just 2 Euros they will be able to download the new single and the also the video clip and with 9 Euros, they will also get a limited signed edition of the CD with the single. The names of those who will invest 18 Euros in this project will appear on the credits of the single and also the video. Soraya is also planning a party in Madrid in the coming days and all who contribute with 35 Euros to her project will get an invitation to this celebration. For those who provide higher amounts of money there is a reward much more special. For example, contributing with 600 Euros they will enjoy dinner with the artist and, for those who contribute with more than 3000 Euros, Soraya will come to their house for a private show.
In her words, "take the control of your own career is important. My fans have been the key of my career and they keep me alive as an artist. This way of dealing with these new challenges allows me to be in touch with my fans as they are an integral part of what will be my future and above it gives me the chance to offer them exclusive material and unique experiences. I will be closer to my fans than ever".
Last year we also saw Anabel Conde, Spanish 1995 Eurovision Song Contest participant, seeking financial support from the fans in order to be able to record a new album. You can read more about that in our previous article.  
In the video below you can listen to Soraya talking about her project (in Spanish) and also watch a sneak peak of the movie:
Links