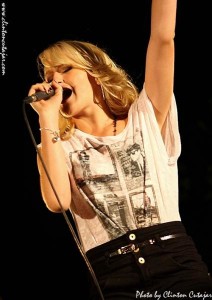 Sophie represented Malta at the 2006 Junior Eurovision Song Contest with Extra Cute.  She is now returning to the music scene with the release of a new single and album.
Sophie, now 16 years old, has been working hard behind the scenes in the last year on her music career.  She has signed to the Thru The Mill company in the United Kingdom.  Her record company have been working on an album with her scheduled for release in the summer of 2011.
Now she is back and focusing on promoting her music with live appearances.  She has recently performed at the Swieqi Day, Independenza, Notte Bianca and Birgu Fest in Malta.
Since appearing at the Junior Eurovision, Sophie has learnt a lot about the music business.  She now has her own publising company called Totally Sophie Music Ltd.  She is hoping this will help her own career and also find other new talent in Malta.
Sophie is also considering submitting a song for the adult Eurovision Song Contest. She has already written a song with musical director, Elton Zarb.
For more information about Sophie visit her website at www.totallysophie.com.
EuroVisionary wishes Sophie lots of luck with her music.