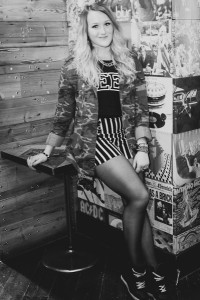 Sophie Debattista charmed viewers and won a lot of respect at the 2006 Junior Eurovision Song Contest where she represented Malta with Extra Cute.  Sophie has had much success since then both in Malta and abroad.  Now she is hoping for success with her new composition, Independent Miss, at the Musicalize UK competition.
Sophie Debattista has matured in to a successful and up and coming singer/songwriter.  She is currently based in the United Kingdom.  Sophie has entered a brand new song, Independent Miss, to the Musicalize UK contest.  She is hoping to win the contest and perform at the famous O2 Arena in London.  If successful she would be the opening act for the American r'n'b singer, Ciara.  The concert is scheduled to take place later this month.
The voting for contest finishes on 4 June.  You can see more about this and vote for Sophie if you want to on the Facebook page.  You can also read more about Sophie at her official website.
Sophie has been busy over the last couple of years touring and promoting her music around the United Kingdom and receiving very positive reviews and comments.
Watch out for more news about Sophie and her next song and video very soon.
You can see Sophie perform Independent Miss below.

You may also like to read: