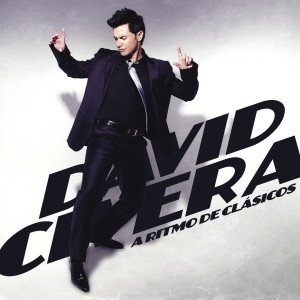 On a new album David Civera looks back at his ten years on the music scene. From the beginning of his career he always wanted to record an album with a renewed version of his favorite classic songs. On A Ritmo De Clásicos he finds a way to put his own personal stamp on each track.
David Civera started his career when he was very young. At the age of 18, he took part in several musical television shows and one of them was the popular show called Canciones de nuestra vida (Songs of our lives) where he sang many of the tracks that we can find on this new album. Well known songs like 'Mis Manos En Tu Cintura' by Adamo, 'A Ti' by Joe Dassin, 'Rogare' by Bruno Lomas, 'Cuore' by Rita Pavone, 'Ti Amo' by Umberto Tozzi… and other classic songs which live in the memory of many of us.
David Civera shot to fame in 2001 when he won the Spanish
national final called Eurocanción 2001 and achieved a 6th place at the Eurovision Song Contest held in Copenhagen with the song Dile Que La Quiero. Since then he has had many hits on the national music charts
like Que La Detengan, Bye, Bye and Perdóname to name a few,
establishing him as one of Spain's most popular singers.
Tracklist:
1.    Rogaré
2.    No puedo quitar mis ojos de ti
3.    Ti amo
4.    Venecia sin ti
5.    Mis manos en tu cintura
6.    Lady Laura
7.    Ma Vie
8.    Gloria
9.    Cuore
10.   A tí
During the summer David Civera has been busy with a concert tour around Spain. EuroVisionary attended one of these to be able to give you a detailed report about how they are.