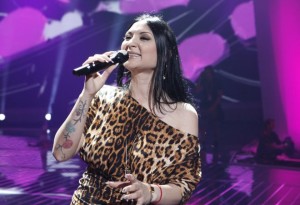 We continue with another ethnic sounding club tune. Sofi Marinova from Bulgaria was last to rehearse today in the Baku Crystal Hall with her song which preaches the message of love without prejudice and boundaries.
One of the ethno-pop entries we will listen to in this year's contest but oddly enough for a song of this style Sofi was completely alone on stage wearing a leopard pattern long dress.
There were no backing dancers or vocals for her and it seems that something is missing from the staging. That is not a problem in the close-up shots but maybe yes for the panoramic shots.
The backdrop was black with pink waves and it had a very clubby feel.
Vocally it sounds quite fine and confident and she showed of her vocal talent singing her multi-lingual chorus.
Not a good first visual impression so far which could be much better if she were flanked by a team of athletic dancers. She has such a powerful voice and a great presence but, will this be enough?