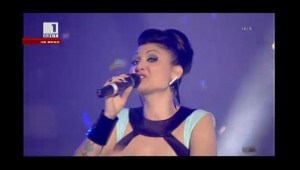 Minutes ago the Bulgarian national final finished with the result that Sofi Marinova would represent the country at the 2012 Eurovision Song Contest with the song Love Unlimited. The show featured several of the participants she will be up against in Baku.
As Bulgaria haven't been in the final of the Eurovision Song Contest since 2005 where Elitsa Todorova & Stoyan Yankoulov ended 5th with the song Water pressure is high on Sofi Marinova who will now be trying to qualify from the second semi-final to the final in May in Baku. 
The songs: 
1. Go Week – The Way You See The World
First song competing tonight is this pop rock song performed by Go Week. We have a lead singer dressed in casual clothes and behind him is three guitar players and a drummer. Everyone except the lead singer are dressed in protecting suits and gassmasks. The gassmasks are shown on the screen behind them from time to time. Does Bulgaria have new clear stations?
2. Todor Gadzhalov – Still Love You
Next song is a ballad where the singer starts out sitting at a bench. On stage with him is a female piano player, a drummer, a violin player and two backing singers. The piano player comes quite in centrum as Todor joins her to play a bit with her.  
3. Steliyana Hristova – Putyat
Up now is a ballad, which is quiet on the verses, but louder on the chorus and at the end where it really requires a strong voice to sing through. She starts out standing in front of the stage with five backing singers, dressed in black or white, behind her placed in levels. During the song Steliyana moves forward. She is dressed in a black suit and has her hair hanging lose. Near the end the backing singers moves up towards her and one of them sings a part of the song making it almost a duet.  
4. Rene Ranev – Alone
We continue with a rock ballad sung by Rene Ranev, who had two backing singer with him on stage. He is dressed in black trousers and a white shirt partly open at the front and white shoes. The two female backing singers are dressed in black and they move up towards him at the front of the stage.  
5. Dess – Love Is Alive
The fifth act is a uptempo pop song with etnics elements to it. We have a female lead singer dressed in a golden bodystocking with a matching back skirt and a helmet with wings making one think of the Greek God Hermes. She has two male dancers and three backing singers with her, all dressed in red.   
6. Svetozar Hristov – Keep Me Down
Now we have a lead singer here sitting at a white piano with three female backing singers next to him. He stands quickly up moving around on the stage, but staying a lot of the time around the backing singers who he sings to. He is dressed in a black suit with open jacket and a stribed t-shirt underneath. It is a pop song with rap elements to it. Performance wise it looks like he might be a bit inspired from George Michael.  
7. Simona Sivanio – Eternal
Simona is dressed in a big white dress with golden pattern on the shoulders and at the waist. The dress has big sleves giving her wings. On stage with her is two backing singers dressed in white and an opera singer in a black dress giving contrast. For decoration Greek pillars are used on this classic ballad.   
8. Ivaylo Kolev ft. Hipnotik – Searching For The Words
We continue with a powerful ballad where electric guitar is heard in the background as well as violin and chello. We have a male singer dressed in a black shirt and trousers with an open cremy coloured jacket over it. On the stage is always three female violin players and a female chello player.    
9. 
Sofi Marinova  – Love unlimited
Next is a female singer dressed in a mint green dress with few black bands to it. Hearts are blicking in the background and fire and pyrotechins are used in plenty on this song that starts out as a ballad, but later turns into being dance music. She is alone on stage where she does not move much around. The title of the song is displayed in the background at the end.  
10. Vyara Pantaleeva – Vyara
Now we have a female singer dressed in a red strapless dress. With her on stage for this ballad is also three female dancers all dressed in white dresses and one piaono player at a white piano. It is a very classic ballad, which goes up on the chorus and near the end requiring a lot from the voice of Vyara. compared to the other songs with the piano here it is being used all through the song.   
11. New 5 – Chance For A Better Life
As the name says here is now five on stage. One male and four females – until a sixth, a DJ, is shown at the side of the stage. First the five singers are together on a line, but later they move aroud in various formats. The man is dressed in black and two of the women in green and the other two in purple dressed. It is a pop song with electronics elements added to it.   
12. Tsvetelin Atanasov-Elvisa ft. DZ – Love Goes Around 
Last of the competing songs is a pop song. We have a male singer in a classic white suit and a female singer dressed as a bride in a brown wedding dress, with is torn half off near the end of the song. On stage is also four female backing singers. Two figures of hearts with a white veil to it is used as docoration on stage.  
The show: The show started at 19:30 CET (20:30 local time) and was hosted by Milenita and Alexander Sano as main hosts and Drago Draganov as backstage host. As opening the Bulgarians offered us a dance performance consisting of both male and female dancers in tight white suits.
After half the songs had been performed it was time for a backstage talk with some of the participants. This was repeated after all the songs.
We then get a performance from Neli Rangelova before a shorter re-cap is shown. That is being followed up by another local artist Grafa who sings several of his songs in one go. Another local singer takes the stage for a few songs after that. She is later being joined by Vassil Naidenov before he then performs solo.
Another re-cap is shown before the backstage host talk to Ivan Ivanov, who represented Bulgaria at the 2011 Junior Eurovision Song Contest. Clips from the junior contest are then shown and then he enters the stage singing his entry Superhero.
After this first part of the interval act the voting lines closed and then another dancing performance was performed. This time it was waltz time. All the female dancers are in colourfull dresses and the men in suits. They are later joined at a group of young dancers doing a pop medley to ABBA's Waterloo and Gimme Gimme, Whitney Houston's I Wanna Dance With Somebody, Michael Jackson's Smooth Criminal and Whitney Houston's I will Always Love You.
Then an introduction to Malta is shown showing clips from the Maltese national final before Kurt Calleja sings his entry for this year's Eurovision Song Contest This Is The Night. The same thing happens when Soluna Samay takes the stage singing her entry Should've Known Better. Clips from former winning songs from Denmark is shown and Believe Again heard in the background.
After Denmark it is time to look at Ukraine and to see a video message from Gaitana and then time had come to Cyprus and Ivi Adamou, who of course sang her entry La La Love. She was followed by France and Anggun singing Echo (You & I). 
We then end the interval act with Elitsa Todorova & Stoyan Yankoulov coming on stage performing. They represented Bulgaria at the 2007 Eurovision Song Contest. They performed a medley of several songs, which of course included Water, which ended 5th in Helsinki. After that we were taken backstage waiting for the result while a video about Azerbaijan was shown. The video is an official one, originally in English, but for tonight Bulgarian commentary has been added. 
The result: The result was made up in a 50/50 combination of jury and televoting. Voting lines opened after the performance of all 12 participants and people could only vote once. The stage blinked and a cound town from three was done in order to mark the beginning of the voting and was followed by a re-cap.
And the winner of the 2012 Bulgarian national final, which was announced by an envelop being opened, is……
Sofi Marinova singing Love Unlimited.