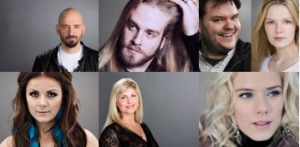 Icelandic broadcaster RÚV has now revealed all participants competing in this Friday's first heat of Söngvakeppni Sjónvarpsins. The line up includes both established artists and relative newcomers to the scene. Eurovisionary invites you to take a closer look and to get to know those taking part a little better.
RÚV released details concerning the running order of the first semi this Friday. You might find the background information on the artists who will be competing against one another useful. The six acts to feature in this Friday's heat of Söngvakeppnin 2013 are as follows (in order of appearance): 

Song number 1: Jóhanna Guðrún Jónsdóttir – Þú/You (Music and Lyrics: Davíð Sigurgeirsson)
Jóhanna was born in Denmark, but moved to Reykjavík with her family at the age of two. She is reported to have sung even before being able to talk and has been in the spotlight since the age of nine, after taking singing classes. At the age of ten she released her first album, a collection of international hits translated into Icelandic, shifting more than 10,000 units. The album Ég Sjálf followed in 2001 and in 2002, the Christmas album Jól með Jóhönnu was released. All three albums sold to gold record status.
She dissappeared from the limelight for six years, before releasing her first album as an adult artist in 2008, Butterflies and Elvis. The release led to her being asked by Óskar Páll Sveinsson to perform Is It True? in the Icelandic national selection in 2009, and the rest, as they say, is history. With a silver medal for Iceland under her belt, Butterflies and Elvis was given an international release and Jóhanna became an even bigger star in her native Iceland. Is it True? became a major hit after the contest in a number of European territories, making the top ten in Slovakia, Greece, Sweden, Switzerland, Finland and Norway. Subsequent releases from the album such as I Miss You also went on to give Jóhanna hits in her native Iceland.
The young singer with a powerful vocal prowess returned for another chance to sing for Iceland, this time with the power ballad Nótt, penned by María Björk Sverrisdóttir, who had worked together with the artist since her early formative years. Hotly tipped to lift the title a second time, fate had different ideas, with Nótt only managing a third placing, but nevertheless becoming a huge fan favourite and giving her another major hit in Iceland. Sporadic single releases from Butterflies and Elvis followed (Indian Rope Trick in early 2012) before relocating to Norway together with her fiancé, Davíð Sigurgeirsson in order to further her career. And so Jóhanna returns for a third time to Söngvakeppni Sjónvarpsins with the song Þú, written by Sigurgeirsson, with whom she regularly performs and collaborates.

Song number 2: Magni Ásgeirsson – Ekki Líta Undan/Don't Look Away (Music: Sveinn Rúnar Sigurðsson / Lyrics: Ingibjörg Gunnarsdóttir)
Since his childhood in Egilsstaðir, Eastern Iceland, music has always played a major role in Magni's life. He formed his first band aged 12, recording an album while still at school with the band Shape. His reputation as a performer grew during his teenage years, with frequent appearances at school proms. In 1999 following a move to Reykjavík, Magni joined the band Á Móti Sól, a force to be reckoned with on the Icelandic music scene, with a number of best selling albums to their name, including ÁMS and Fiðrildi. It was in 2006 however, that Magni began to make a name for himself outside of Iceland, coming fourth in the Amercian series Rock Star: Supernova.
Magni has released two solo albums thus far; the self titled Magni in 2007 and his latest release Í Huganum Heim in 2012 and with a number of sizeable radio hits to his name, is definitely regarded as one of it not the premier Icelandic rock singer. He's certainly no stranger to fans of Eurovision and national finals either, with no fewer than four previous entries to his name. He first competed in the national selections back in 2006 with the song Flottur Karl, Sæmi Rokk, failing to make an impact. He returned in 2008 as part of a duet together with former Icelandic entrant Birgitta Haukdal, singing Núna Veit Ég, but missed out on a top three placing. He narrowly missed representing Iceland on his third attempt in 2011 with the blistering rock anthem Ég Trúi á Betra Líf. Encouraged by his success, he returned for the second year running with the haunting rock ballad Hugarró, placing third. Could 2013 finally be Magni's year with Ekki Líta Undan?

Song number 3: Svavar Knútur Kristinsson and Hreindís Ylva Garðarsdóttir Hólm – Lífið Snýst /Life Goes On (Music: Hallgrímur Óskarsson / Lyrics: Hallgrímur Óskarsson & Svavar Knútur Kristinsson)
Hreindís Ylva Garðarsdóttir Hólm has been involved in both singing and acting from a very early age and is currently in her third and last year of drama studies at the Guildford School of Acting, United Kingdom. Hólm has worked in theatre and film, playing one of the lead roles in the film Órói, which gained immense popularity and acclaim worldwide upon it's release in 2010. She has also treaded the boards, with roles in musicals such as Annie and Jesus Christ Superstar.
Hólm also gained invaluable vocal experience when, together with her band, she released an album, Á Góðri Stund in 2011 with interpretations of works by the famous singer Erla Þorsteinsdóttir. Concerts were held throughout the country in conjunction with the release of the album. This will be her second outing to Söngvakeppnin, her first appearance was in 2009, when she made it to the final with Vornótt.
Svavar Knútur Kristinsson has developed something of a reputation as a singer/songwriter, earning much praise for innovative songs and for his efforts towards the perservation of the Icelandic vocal tradition. His work has led him to tour extensively overseas. Over the years he has worked with numerous Icelandic musicians, including Gunnar Þórðarsson and jazz vocalist Kristjana Stefánsdóttir in addition to appearing in many concerts, TV and radio programmes.
In 2007, the band Hraun with Kristinsson as frontman even made it through the the last stages of a BBC competition The Next Big Thing. That year also saw the release of the band's debut album I Can't Believe It's Not Happiness, with a follow up album, Silent Treatment released in 2008. Kristinsson released the album Glæður together with Kristjana Stefánsdóttir in 2011. His first solo album Kvöldvaka was given a limited release in 2009, with sopies only on sale at concerts. Demand for the album exploded, and so was given a much larger reissue in 2010. His second album Amma came out in 2010, featuring his interpretation of songs that he had come to love over the years. His latest album Ölduslóð appeared in 2012, the same year he also won an international singer/songwriter competition. This is Kristinsson's debut at Söngvakeppnin.

Song number 4: Edda Viðarsdóttir – Sá sem Lætur Hjartað Ráða För/The One Who Follows His Heart (Music: Þórir Úlfarsson / Lyrics: Kristján Hreinsson)
Local girl Edda Viðarsdóttir was born in Reykjavík in 1975. This will be her first time performing at Söngvakeppnin, and she does it performing a song that was especially written for her by her husband, Þórir Úlfarsson. Despite this being her debut in a national final, she is no stranger to song, having sung for as long as she can remember.
Her musical background comes from the Kársness School Choir and she also performed together with the band Áttavillt for a number of years. Viðarsdóttir has also played roles in various musical productions, which has even taken her as far as Broadway. Her vocal talents have enabled her to contribute on numerous recordings and she even released her first song last year.

Song number 5: Eyþór Ingi Gunnlaugsson  – Ég á Líf/I've Got a Life (Music & Lyrics : Örlygur Smári & Pétur Örn Guðmundsson)
Eyþór Ingi Gunnlaugsson, born in 1989 in Dalvík, is taking part in Söngvakeppnin for the first time. During his adolescence he participated in numerous theatre productions such as Oliver Twist which were immensely popular. But interest for Gunnlaugsson really began to take off when he played the role of Jesus in the production of Jesus Christ Superstar. 2007 saw him taking part in a national song contest for the very first time, which gave him his first taste of victory. Since then, Gunnlaugsson has made regular appearances, both as a performer and a composer.
2010 saw Gunnlaugsson play the role of Riff Raff in a production of the Rocky Horror Picture Show; his vocal performance earned him an award nomination from the Icelandic Actors' Guild. Another major role followed in 2011, with him playing the role of Berger in a production of Hair at the Harpa concert hall. He has previously performed with numerous bands covering various genres, including a Deep Purple tribute band and the immensely popular group Todmobile as well as participating in the Freddie Mercury tribute show, amongst other things. He is currently busy working on his first solo album.

Song number 6: Birgitta Haukdal – Meðal Andanna/Among the Spirits (Music: Birgitta Haukdal, Sylvía Haukdal Brynjarsdóttir & Jonas Gladnikoff / Lyrics: Birgitta Haukdal, Sylvía Haukdal Brynjarsdóttir, Michael James Down & Primoz Poglajen)
Birgitta Haukdal is without doubt, one of the most prolific names and established performers taking part in this year's national selection. Her major breakthrough came as lead vocalist with the group Írafár in 2000, who have established themselves as one of Iceland's top selling acts. Their debut album Allt Sem Ég Sé achieved platinum status, becoming the fastest selling album in Iceland within the last 25 years, an enviable accomplishment.
Haukdal performed Segðu Mér Allt in the 2003 national final and won convincingly, taking the English language version Open Your Heart to Riga, and acheiving eight place for Iceland, taking her popularity to new heights back home, where she was voted Best Performer and Best Pop Star of the year. She has worked alongside another Eurovision entrant, Jónsi, in the musical production of Grease, where she played the lead role of Sandy. Following her success in the national finals in 2003, Haukdal made two more attempts at representing Iceland; in 2006 with Mynd Af Þér, coming fourth, and in 2008 duetting with rocker Magni on Núna Veit Ég, but failing to impress viewers.
With two solo albums to her name, Ein released in 2007 and her last release Straumar from two years ago, it's time for the talented artist to get back into the spotlight where she belongs, and so she takes to the stage once more with Meðal Andanna, her first entry to Söngvakeppni Sjónvarpsins for five years.
Listen to all of the entries prior to the first semi final on the official RÚV Söngvakeppnin website.
You might also want to read: