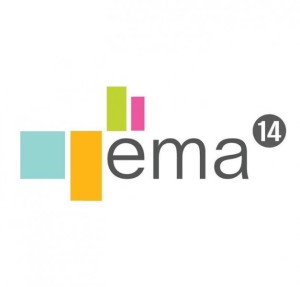 On Saturday, the 8th of March, Slovenia will decide who will be it's 20th representative at the Eurovision Song Contest. Seven acts will compete in the national final better known as EMA. The decision about who will fly the Slovenian flag in Copenhagen will be in the hands of the public.
Slovenia will try to make it to the final after two consecutive failed attempts. This year, the Balkan country will participate in the second semi-final to be held on the 8th of May. Seven acts will compete with each other to win EMA 2014 and thus earn the right to represent Slovenia in Copenhagen. This year EMA 2014 will be hosted by Ula Furlan. The competitors were chosen by a jury comprising Miša Molk, Darja Švajger (Slovenian entrant in 1995 and 1999) and Andrea F. (radio host, musician and producer)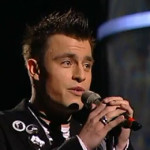 1. Omar Naber – I won't give up – (Music & Lyrics: Omar Naber)
Omar Naber is a well known Slovenian singer. He is not new to the Eurovision scene as he represented his native country in the 2005 Eurovision Song Contest with the song Stop. That same year he released his album entitled Omar. A year after he toured Slovenia, as well as internationally, and eventually went back to the studio to record his second album with his band Kareem. This second album, also named Kareem, was released in 2007. In 2009, he again entered the Slovenian selection with his song I Still Carry On, finishing second and tried a third time in 2011 with the entry Bistvo skrito je očem.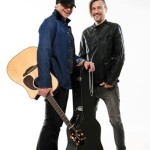 2. Nermin Puškar & Samuel Lucas – Masquerade – (Music & Lyrics: Krešimir Tomec, Igor Leonardi, Nermin Puškar, Lejla Delalić & Donna Osterc)
Nermin Puškar is a singer and musician born in Bosnia & Herzegovina. He started his career with the band Krug. He worked with many re-owned artists such as Zeljko Joksimovic (2004 – Serbia & Montenegro and 2012 – Serbia), Dino Merlin (1999 & 2011 – Bosnia & Herzegovina) and Hari Mata Hari (2006 – Bosnia & Herzegovina). In 2005 he started working on his first solo album entitled New World which was released two years later. Samuel Lucas is not new to the Slovenian selection. He competed in the 2009 national final and his main genre is pop rock. Besides singing he also plays the guitar.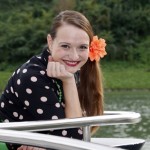 3. Bilbi – To ni blues (This is not blues) – (Music & Lyrics: Maja Pihler Stermecki & Gregor Stermecki)
Bilbi became relatively known after taking part in a number of musicals. She always had a passion for music used to compose herself. Then she started working with composer, Gregor Stermecki, whom then she married. Her stage name Bilbi was created and in 2010 she released her single Hvala za vijolice (Thank you for the violets). A year later she released her debut album Drobne slike (Little pictures) and some of the tracks charted high in the Slovenian music charts. Last year she started working on a new album called Toskana (Tuscany) and her entry in the national final is taken from that album.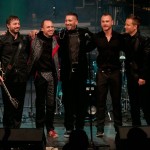 4. Nude – It's gonna be OK! – (Music & Lyrics: Gaber Marolt)
Nude is a Slovenian rock band described as one of the most active bands. The band is composed of five members who are; Boštjan Dermol, Gaber Marolt, Teodor Amanovič-Toš, Marko Furek and Dejan Štuhec. The group took part in a number of cultural concerts. The rock band is not new to the Slovenian selection as they participated four times (1999, 2001, 2005 and 2007). Their music is very popular amongst rock lovers in Slovenia and they released a number of singles which still enjoy airplay today.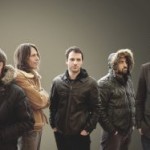 5. Rudi Bučar & Elevators – Tja (There) – (Music & Lyrics: Rudi Bučar)
Rudi Bučar started his musical career in the late 70's. He was a backing vocalist in the 2007 Eurovision Song Contest when Alenka Gotar sang Cvet Z Juga. Rudi was one of the performers that took part in a concert in Brussels at the end of the European Union Presidency in 2008. Elevators is one of the best jazz-funk-rock bands in Slovenia. Their music relies heavily on intricate guitar lines, groovy bass and other characteristics featured in 70's music. Although the music is principally instrumental, here and there it is punctuated by playful and carefully written texts.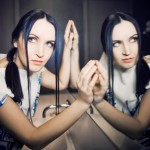 6. Tinkara Kovač – Spet (Round and round) – (Music & Lyrics: Raay, Tinkara Kovač, Hannah Mancini & Tina Piš)
Tinkara Kovač is a singer, flutist, producer, and composer. Since 1997, when she released her first single, she has released two albums, three studio albums and a single. She is currently preparing a special project in four languages, as well as a best of compilation. In 2012, she released an album of arrangements of compositions from former Yugoslavia. In her fifteen years in the music scene, she has received numerous awards and has performed in more than 800 concerts in Slovenia and abroad.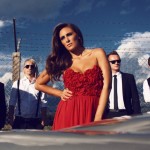 7. Muff – Let me be (myself) – (Music & Lyrics: Tadej Košir, Anže Kacafura, Miha Gorše & Senidah Hajdarpašić)
Muff is a pop group founded in 2011. The group is composed of five members include Senidah (lead singer), Tadej Kosir (electric guitar), Grega Robic (bass guitar), Dorian Granda (drums) and Miha Gorše (keyboards and backing vocalist). Last year their music video for the song Tvoje Moje was in the top ten best music videos in the country. Muff regularly perform in a number of clubs and cafes in order to continue in promoting their music to the Slovenian public.
You might also want to read: