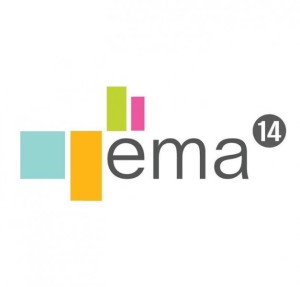 Today the Slovenian broadcaster RTVSLO announced that seven acts will compete in their national selection EMA to represent Slovenia at the Eurovision Song Contest 2014 in Copenhagen. Among the names there is also Omar Naber who participated at the 2005 edition in Kiev.
After a last minute confirmation to participate at the 2014 Eurovision Song Contest the Slovenian broadcaster RTVSLO presented the names of competitors at their national selection EMA which will be held on March 8th. Seven acts will try to get the honour to represent Slovenia in Copenhagen. Among the participants we also find Omar Naber who represented Slovenia at the 2005 Eurovision Song Contest in Kiev, but failed to qualify for the final.
The participants are as follows:
Bilbi
Muff
Nermin Puškar & Samuel Lucas (Samuel Lucas EMA 2009)
Nude (EMA 1999, 2001, 2005 & 2007)
Omar Naber (ESC 2005, EMA 2009 & 2011)
Rudi Bučar & Elevators

Tinkara Kovač (EMA 1997, 1999 & 2001)
All acts were selected by a committee consisting among others of Darja Švajger who represented Slovenia twice at the Eurovision Song Contest in 1995 and 1999. This year Slovenia will compete in the second semi-final on May 8th.
Slovenia at the Eurovision Song Contest:
Slovenia's first appearance at the Eurovision Song Contest was in 1993 when they were represented by 1x Band and the song Tih deževen dan. Until today the country's best result are two 7th places reached by Darja Švajger with Prisluhni mi in 1995 and Nuša Derenda with Energy in 2001. Since the introduction of the semi-finals in 2004 Slovenia only qualified twice – in 2007 with Alenka Gotar (Cvet z juga) and in 2011 with Maja Keuc (No one).
You might also like to read:
Ireland 2014: Euro songs get their debut radio play
No smoking gun found, but EBU tightens rules regarding voting fraud
Melodifestivalen 2014 2nd heat: Get to know the participants