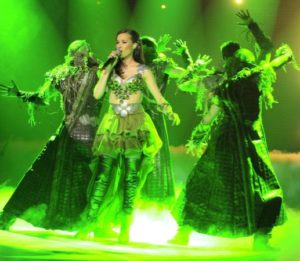 Kristina and her team decided to keep the performance quite much in the same way as they had it in the Slovakian national final. They do however have some changes and innovations compared to the national final performance.
The slovakian rehearsal performance starts out in much the same way as in the national final. They had good costumes on it, so they wanted to keep quite the same look. In some way people can remember them better if they have always the same things on them, without big innovations.
Background is green, changing into orange or quite yellow and red. It is natural colors like they have on themselves the clothes. Just one girl on the stage had long white dress. Probably because of the name of the song and its meaning. The dancers were dancing the same like in national final, maybe more jumping and definitely more dynamic. The dancers have some ropes with which they were making the moves.
After second part of the song, the yellow and orange spot lights were on, after the green background. Also, at the beginning of the rehearsal we could see the smoke on the stage. At the end of the performance, light was turned off gradually, all around the performers is black and into them is lighting the green.