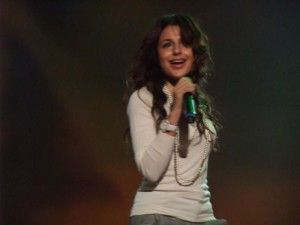 Sirusho, who sang 'Qele Qele' for Armenia in the 2008 Eurovision Song Contest, said the Eurovision Song Contest was an important music show case for her.
 The singer was interviewed by www.eurovisionary.com when she visited Malta to perform in the national final as an invited guest.
She looked back to her experience in Belgrade. She said that following the contest her musical career has made a significant rise.
Sirusho received maximum points from several western countries and was very happy her music was appreciated throughout Europe.
She would not confirm if she would return to the Eurovision Song Contest but would definitely consider it if the public wanted her back.
She also talked about her work with the Eurovision stars Boaz Mauda and Jelena Tomasevic as they joined forces to sing a song for peace. The three singers competed in the same Eurovision Song Contest in 2008.
Sirusho performed 'Havatum Em' and 'Qele Qele' in the interval at the Malta Eurosong.
In the second dress rehearsal she also performed a Greek song 'Erotis'. This is an ethnic uptempo song. She decided not to perform this but this will be on her forthcoming album. This song was is in the Greek language and the lyrics are written by Natalia Germanou who wrote 'My Number One' in 2005 and Hayko (Armenia 2007).