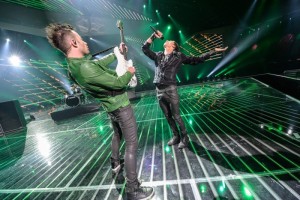 Many fans had waited with excitement for the first Swiss rehearsal. How would the lead singer's pronunciation be? The answer is: better than expected.
In the past Switzerland has sent names as Lys Assia, Celine Dion and DJ Bobo to the Eurovision Song Contest. This year they chose the rock band Sinplus as their representative. Sunday they had their first rehearsal at Crystal Arena in Baku.
There is just one word for this performance and that is energy.
The lead singer's energy is amazing. Through the entire song he's walking/running across the scene. During this he also has time to fall on his knee and to grab the microphone stand and raise it to the air. But he's not alone. The guitarist has the same energy. As they're brother, I quess it runs in the family.
The background starts in black and white but quickly change to red, green, and other colours. The background has the same energy as the lead singer and it fits the song and the band very well. In the end of the song fire is added. Allthougt it's seen before, it works quite well. 
As a true rock band, the main colour of the outfit is black. The lead singer Gabriel is wearing leather trousers, a t-shirt with the word UNBREAKABLE and a jacket – all in black. The guitarist however is wearing a green leather jacket.
Since the national final in Switzerland back in December the lead singer's pronunciation of the English language has been a topic. But luckily for Switzerland it seems to have improved a lot. Now you're actually able to hear what he's singing.
Will this qualify…? Judge for yourself in the 3D video below.