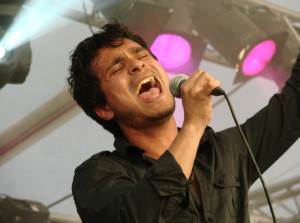 Yesterday evening, Denmark's largest market, the Hjallerup Marked, ended with a performance of Simon Mathew who represented Denmark in Belgrade just a week ago. We are proud to bring you videos and a large selection of pictures from yesterday's concert.
Hjallerup Marked opened Friday with a performance from Birthe Kjær, Denmark's representative for the 1989 Eurovision Song Contest. Sunday evening it was time to close down the 2008 edition of the market that is Denmark's largest of its kind. Just a week after returning from Belgrade Simon Mathew was on stage in Hjallerup, North Jutland close to where he has been living for most of his life.
Simon was glad to be back to an audience who were able to sing a long to most of his songs – and it was not only the children and the screaming teenage girls on first row singing along. 40-year-old men had no problems with the lyrics either. Especially songs like Deep, Get Me High and of course his Eurovision entry All Night Long really got the crowd going. All songs, except from a cover version of the old Kings' hit You Really Got Me" were from his second and recently released album, "All For Fame".
As seen before at Simon Mathew concerts the line from his Eurovision Song Contest entry All Night Long that goes "right here in the shade" was changed to feature the city where he was. This evening the line therefore went "right here in Hjallerup".
Below you find videos from yesterday's concert and in our photo albums you find a lot of pictures that show exactly what you missed out on.
Video 1 of 4 includes: All Step Up, Deep and Save Me.
Video 2 of 4 includes: Some People, Kicking Up A Storm and Stay On.
Video 3 of 4 includes: Get Me High, One Hit Wonder and All Night Long.
Video 4 of 4 includes a cover version of Kings' big hit You Really Got Me.