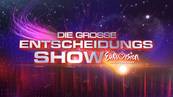 The deadline for submissions for the Swiss national selections came to a close yesterday, with a sizeable downturn in entries registered compared to last year. The list of submitted entries includes some suprising names and shows considerable overseas interest.
Reviewal of all submitted entries by Swiss German broadcaster SF will commence shortly, and a reported 178 entries for their four places in the Swiss national final on December the 15th have been received. That's a whopping 90 entries down from last year's total of 320 candidates. Despite an apparent overall decline in interest, a brief glance at the overview of entries published on the Schweizer Fernsehen site gives us some interesting names, quite a number of which are already familiar to us.
The most well known name is of course that of Eurovision's first lady, Lys Assia, who for the second year running is attempting once again to represent her beloved Switzerland together with the rap quartet New Jack and their entry All in Your Head. Assia is in for some stiff competition from other former entrants, such as Poland's Magdalena Tul, who after singing Jestem in 2011 hopes to represent Switzerland with Give It Up in Malmö. Former Swiss entrant Mariella Farré, who has represented Switzerland on two previous occasions (in 1983 with Io Così Non Ci Sto and in 1985 with Piano, Piano) is also eager to get in on the act with One Of A Kind.
As reported previously here on EuroVisionary, Gordon, who sang as part of De Toppers for the Netherlands in 2009 has also sumbitted not one, but two entries with his latest project, L.A. The Voices. Wild White Horses was the entry chosen by their fans on Sunday. The list published by SF also revelas however that the second placed Change is Gonna Come is reportedly also in the running for one of the four spots in the Swiss final.
One of the most unusual entries this year (besides the entries entitled Eat a Banana, Smoke Marihuana and Do The Monkey) which has generated a great deal of interest with both national and overseas media is You and Me, performed by Heilsarmee (consisting of members from the Salvation Army) with their pop rock number not to be confused with Joan Franka's entry this year of the same name. The sheer wackiness and originality of the concept could prove to be big enough a hit and secure them a ticket to the final.
Entries that have made it past the initial preselection round will then be subjected to a further qualification round to select the final four to win the four SF places in the national final starting on the 15th of October. The four finalists will be be determined by a 50/50 combination of internet and professional jury votes and will be joined by three representatives from French language broadcaster RTS and two candidates from the Italian language broadcaster RSI. Watch this space for updates on further developments in the Swiss selection.