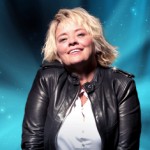 Former Icelandic participant Sigga Beinteinsdóttir turns fifty later this month and the occasion will apparently not go unnoticed in her native Iceland, with a special celebtraion planned for the artist.
Although hard to believe, former entrant and grand dame of the Icelandic music industry Sigga Beinteinsdóttir, or just Sigga as Eurovision fans know her, turns fifty on the 26th of July. This year also marks her 30th anniversary as an artist and to mark the occasion, a very special party is planned.
A huge concert is to be held at the Háskólabíó on the 26th of July, where Sigga will perform many of her most well loved hits, including golden oldies such as Vertu ekki að plata mig right up until her most recent hits. Fans will no doubt be treated to her Eurovision entries too, as Sigga has represented Iceland on an impressive three occassions – in 1990 as part of the group Stjórnin, performing the bouncy Eitt Lag Enn (One More Song), giving Iceland their highest placing up until then, a very respectable fourth place. 1992 saw her try again as yet another group, this time Heart 2 Heart performing Nei Eða Já (Yes or No), giving Iceland another top ten placing, ending up seventh. Her last attempt came in 1994 when she took to the Dublin stage and performed fan favourite Nætur (Nights), coming in a dissappointing twelfth.
Although it's been almost twenty years since she last sang for Iceland, the artist has remained extremely active, both as an artist and also as an entrepreneur, running her own vocal school. Sigga remains hugely popular on the saga island and so naturally many famous friends wish to contribute to the celebrations, taking the birthday girl on a trip down memory lane. They will be accompanied by a big band and the guest list includes quite a number of former Eurovision entrants and participants in the national selection, Söngvakeppni Sjónvarpsins. The guest line up includes: Grétar Örvarsson, who performed with Sigga as the other half of Stjórnin and also backed her in Malmö with Heart 2 Heart. Björgvín "Bó" Halldórsson, who is another household name and who sang Núna (Now) for Iceland in 1995 is also confirmed to take part. Friðrik Ómar and Regína Ósk, otherwise known as Eurobandið who represented Iceland in 2008 with This Is My Life will also be dropping in alongside Söngvakeppni veteran and favourite Erna Hrönn, who last participated in 2011 with Ástin Mín Eina (My Only Love) and one of Iceland's bigges musical exports, the hugely popular Páll Óskar, who sang his ultra modern Minn Hinsti Dance (My Final Dance) at the 1997 Eurovision Song Contest, coming in 20th.
the event is due to start at 8 pm and tickets have already been released for sale, costing ISK 4990 each, approximately £25, a bargain, in other words. So, if you're in the neighbourhood, why not join the party? We at Eurovisionary wish Sigga all the very best for her birthday and many happy returns – let's hope she's celebrated in the style she truly deserves.