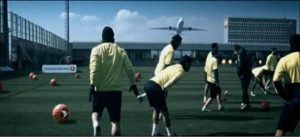 Former Eurovision Song Contest winner, Sertab Erener, has sung for Spanish football team, F.C. Barcelona, on a commercial video. The video was aired on several TV channels worldwide.
Sertab Erener, the Turkish singer who won the Eurovision Song Contest in 2003, is surprisingly back to the screens with a commercial video. Turkish Airlines, the main sponsor of FC Barcelona, allowed Sertab to perform at the recording of the commercial clip and Sertab Erener came together with Nil Karaibrahimgil, who is another successful singer and songwriter, making the composition We Are Turkish Airlines, We Are Globally Yours.
The snapshots of the commercial clip was aired last night at half time  during the Real Madrid and Barcelona football match  Many FC Barcelona players such as Messi, Ibrahimovic, Xavi, Iniesta, Puyol, Victor Valdez, Henry and Pique, were also seen.
The commercial movie was directed by Marco Grandia and Gabor Deek, and the shooting of the video was recorded in Barcelona and İstanbul. It is also mentioned that the commercial clip will be aired on some elite channels such as BBC, CNN, Euronews, Al Jazeraa, CNBC and Eurosport.
You can watch the first snapshots of the commercial video below.