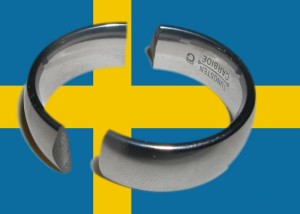 During the last couple of day's two former Eurovision Song Contest winners, Charlotte Perrelli and Richard Herrey, both from Sweden have announced that they are separating from their partners with a possible divorce to follow.
First Charlotte Perrelli and Nicola, her Italian husband for five years announced that they have decided to separate. Charlotte was alone in Belgrade, but the couple state that Nicola was supposed to have been there to support his wife, but had to cancel at the last moment due to problems on the job. With that in mind it appears like the decision to separate has been taken recently and it is therefore too early to tell if the couple might get back together again or if it indeed will end up with a divorce. Charlotte and Nicola have two children together, the 4 years old Angelo and two year old.
The next day Richard Herrey and his wife for 21 years, Marie, announced that they have been separated as well. They have two daughters, Mirelle and Melina together and the couple state that they will remain friends and will be watching football from the ongoing European Championship together.
Whatever the reasons might be it is a fact that all four Swedish Eurovision Song Contest victories have been followed by divorces. Benny, Bjørn, Agnetha and Anni-Frid from ABBA, who won the Contest in 1974 with Waterloo, have all been divorced. Richard Herrey, who is now separated from his wife, won with his two brothers as Herreys in 1984 with Diggi-loo Diggi-ley.
Carola got married to Norwegian Runar Sögaard in 1990, won the Eurovision Song Contest the year after with Fångad Av En Stormvind and in 2000 they got divorced when their son Amadeus was two years old. Charlotte Perrelli, whose maiden name is Nilsson, brought home Sweden's fourth victory in 1999 with Take Me To Your Heaven and has now been separated as well.