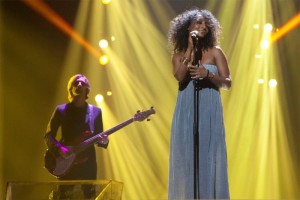 The contrast couldn't be bigger between San Marino and the previous act, Malta. Whereas Malta sounds youthful and brash, Senit's song is perhaps aimed at the more mature viewer.
She was again wearing the floor length flowing silver creation that she had worn in the first rehearsal, her backing singers in a matching black and grey ensemble.
An uncluttered stage with the exception of an amplifier and speaker, meant that focus was on the music of this gentle, thoughtful ballad. Vocally she came across better in the hall than on the TV. From the stage Senit's voice sounded husky, raspy and with warm qualities. Of course she didn't hit all notes, but that merely added to her charm as an artist. Feedback from others who heard and saw her performance on the monitors in the press area say that she sounded jaded and tired.
There was no backdrop effect during her performance, relying purely on light to create atmosphere. For much of the song, Senit is backlit by orange and yellow hues, which suit her colouring much better than the cold blues used later on in the song.
In my view
The trouble with this number is that it falls between two lively, uptempo numbers which will no doubt make it too anonymous and unmemorable to the viewer and it runs the risk of drowning. I personally have warmed to it without previously having had any opinion whatsoever. My heart would love for little San Marino to qualify, because they've sent a genuinely talented artist. My head however says that the odds are stacked against this lilleput nation.

The opinion expressed in "In my view" are those of the author and are not necessarily the one of EuroVisionary.com.