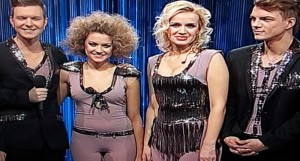 The second of two semi-finals was broadcast tonight by LRT in Lithuania. Four more acts qualified for the grand final to be held on 22 December. Nine acts competed for the final places left in the Eurovizijos to be decided by televoting and expert jury.
This is the ninth of ten shows to decide the representative at the 2013 Eurovision Song Contest for Lithuania. The broadcaster, LRT, should be applauded for putting much effort in to the national selection particularly after the many withdrawals from countries for the 2013 contest.

The songs: 
1.Beissoul & Gabrielė Griciūtė – Beautiful Life
This song is a slow r'n'b number.  It is basically a boy girl duet. There are two female backing singers. The dress code is black. Beissoul's voice is unusual and sounds like he has been breathing helium. For me this song goes nowhere.
2.Monika – Baby Boy 
Here we go with song two.  The tempo moves up with this rhythmic upbeat dance number.  Monica is alone on stage. She is dressed in a short blue dress.  A good vocal and lively song.
3.Sophie – Make It Happen 
This is a jazz type song.  Sophie is alone on stage and she is dressed in a dark green outfit looking like she is ready for battle. Good vocals but the song is quite disjointed. May appeal to some jazz fans. 
4.Linas Adomaitis – I W 2night 
Former 2004 Eurovision entant for Lithuania singer, Linas, is back.  He is performing with three girls.  He is seated at the driving seat with a car wheel and the girl vocalists are his passengers. On stage we have some bizarre dancing actors. A male mugger with baseball bat and a traffic policeman. A funky little number. 
5.Girmantė Vaitkutė – Time to Shine 
A charming melody to this lovely ballad. Girmante is wearing a long blue dress.  She is joined on stage by two girl and one male backing vocalists.  This song is popular with the audience.  Very nice vocals.
6.Gintarė Korsakaitė – Dreaming
Gintare is alone on stage.  She is wearing a purple blouse and short green spotted skirt.  The song is a mid tempo and soulful sound. Nice vocals and the overall feel is a nice summer and feel good sound.
7.El Fuego – Ledo Gabalėlis
The songs begins with the four guys sitting back to back.  They are dressed in blue suits and white shirts and bow ties.  The song is operatic. Powerful vocals but the song seems to have a missing ingredient.
8.Giedrė Smolskaitė – Stay Awake Tonight 
She is wearing a short black dress.  This is a mid tempo electronic song. A good production and very well performed. This has a nice synth sound throughout and a haunting melody. 
9.Dar – Jump 
The pre-show favourite tonight with the public. Dar are a mixed group of two guys and two girls. The guys are wearing black suits and the girls are in green.  The song is an uptempo and lively dance song and would surely be Euro fan favourite. 

The show:

The evening event is hosted again by Andrius Rožickas.
All the acts were introduced in tonight's running order with LT United's We Are The Winners playing in the background. We are also introduced to the four member jury.  There were dancing performances after some commercial breaks including Euphoria from Loreen and the standard song, Fever.
The four acts to qualify to the final after the televoting and jury votes are –
Linas Adomaitis
Gintare Korsakaite
Dar
Monika
You may also want to read: