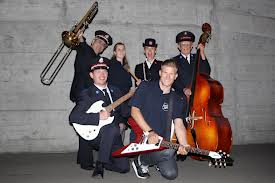 Switzerland has held its national final, and after a public vote Heilsarmee has been given the ticket to represent their country at the 2013 Eurovision Song Contest in Malmö.
Switzerland keeps up its tradition of picking a Eurovision entry in the calendar year before the contest itself.  With Sinplus failing to make the final in Baku, the pressure is on to get that one step further in Malmö.
Sven Epiney was the host of the show.  He reminded us that 100% televoting and SMS voting would decide the winner.  He then introduced us the a guest panel.  Their claims to fame were that they are Swiss nationals with foreign roots, in a hope to give a more European flavour.  These were Sanna (Sweden), Danijel (Serbia), Claudio (Italy) Mali (Turkey) and Hella von Sinnen (Germany).
Onto the nine acts:
1. Ally – Catch me
Ally started on a chair.  She was in a black and white dress.  She was joined on stage by two female backing singers, and one male dancer in shirt, waistcoat and bowler hat.  The song itself had a jazzy feel about it.  At times she seemed to struggle with the more challenging parts of the song.  She had some stage presence and moved around it quite effectively.
2. Chiara Dubey – Bella sera
This started off with a dark stage with only a pool of orange light.  There was a backdrop of suns and moons that rotated.  Chiara was alone on stage in a short black dress and black bowler hat.  She sang this song very well, although seemed a little nervous.  It's a very pleasant song and she got a huge cheer from the crowd when she finished.
3. Carrousel – J'avaie rendez-vous
The duo of Sophie and Léonard were joined on stage by a band of four.  Sophie had an accordian which played a large part of the instrumental parts of the song.  She was in a short purple dress and leather jacket.  Léonard had a guitar, and was dressed in a dark suit and purple shirt.  They moved around the stage well during the song, and the crowd was clapping along to the instrumental parts of the song.  
4. Anthony Bighead – Do the monkey
Anthony was dressed in his monkey onesie, as were his two backing dancers.  He had a DJ on stage, and two female backing singers in yellow dresses.  Even his microphone was banana shaped.  The backing track seemed to be lacking something, but the stage show was imaginative.  Plenty of people were in the audience dancing along and wearing monkey masks.  Towards the end, Anthony went up to the jury and presented them with a moneky mask.
5. Heilsarmee – You and me 
This song is one of the favourites to win. Of the six band members, four were in the uniform of the Salvation Army.  The instruments used were a big bass drum, double bass, trombone and electric guitar.  The whole show was very effective, and inluke some other songs, was very much in tune.  It was the best so far and the audience reaction at the end reflected this.  
6. Nill Klemm – On my way
Nill was dressed in a dark jacket, T-shirt and trousers, and playing a guitar.  He was backed by one female backing singer and three backing dancers.  The verse seemed to get lost a little, but the chorus had a decent hook. Maybe not a winner but he had his fans in the audience.
7. Melissa – The point of no return 
In a very striking turquoise and white dress, Melissa was accompanied by two male dancers and three backing singers.  This is a club track – a floor filler – and could quite easily be heard on the dancefloor.  But her vocal seemed a little weak and did not fit completely with the backing track.  The wind machine and polished stage show may see her through.  It got a huge cheer from the audience.
8. Nicolas Fraissinet – Lève-toi
Nicolas was in a dark open necked shirt and seated at a piano.  He was joined by a four piece band.  The set started dark, but became more dynamic as the song built towards the chorus.  It was effectively staged and Nicolas performed his self-composed song very well.  This could be in with a chance.
9. Jesse Ritch – Forever and a day
In a white sparkly suit and black jacket, Jesse was joined by four backing singers and one backing dancer.  The dancer moved around on a large white box. He had a very good range, but the song didn't really seem to go anywhere.  He did, however, have a large group of fans in the audience.
Our jury then had the chance to say who they thought would do best in Malmö.  They seemed to favour Melissa. 
Sven then informed us that the phone lines were being thrown open and we had a brief reprise of each song to remind us.
The phone lines closed, and while the votes were being checked, we had Sinplus on stage with their new song Turn on the light.  Sven told us again that the winner will shortly be announced, and introduced a short information film about Sweden, telling us that they are friendly, descended from Vikings, and have a king.
Finally, the acts were introduced on stage and three names were revealed in a random order.  These were Heilsarmee, Jesse Ritch and Carrousel.  From these, a further envelope containing the golden ticket to Malmö was opened.  And the winner was…
Heilsarmee