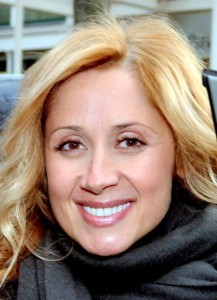 The remaining 10 established singers conitnued last night the 65th edition of the Sanremo festival in Teatro Ariston in Italy. Conchita Wurst with sang as an interval act. Former Eurovision participant Lara Fabian said no to a new Eurovision experience should she win Sanremo this year.
A very strong year for Sanremo this year as it seems that they have at least 4 songs that they can win. Among the participants two of last night's contestants in category Campioni have previously represented Italy at the Eurovision Song Contest: Nina Zilli in 2012 with the song L'amore è Femmina (9th place) and Raf 1987 in duet with Umberto Tozzi, with song Gente Di Mare (3rd place). Both of them suceeded to be in top 6 in the televoting, so the most possible is to see them again in the final on Saturday. Lara Fabian (Luxembourg 1988) who participated on the first night of Sanremo and didn't manage to be in the top6 of televoting and faces now elimination gave an interview to OGAE Italy answering if she would do Eurovision again:
"I have already done it. In my career I don't want to repeat things but go ahead for new things. I would turn it down, I have done Eurovision already. It was a great experience and such fun!"
Besides Conchita Wurst (2014 Eurovision winner for Austria) the guests of the show were the famous American actress Charlise Theron, the popular Italian singer Biaggio Antonacci, the performer and songwriter Pino Donaggio and comedian Angelo Pintus 
After last night we have a new hot favourite for winning this year's festival.Three tenors, naming II Volo with their song Grande Amore took a huge applause in the audience and Italian bloggs says that they won the last night's televoting. So who will be for Italy this year? Nek, Analisa or II Volo or maybe again Nina Zili?
Watch their amazing song of II Volo below: