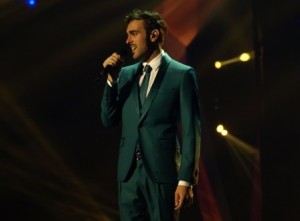 With a post on its Eurovision facebook page, Italian public broadcaster RAI announced that the winner of the 65th Sanremo Song Festival will be entitled to represent the country in the upcoming Eurovision Song Contest. If the Sanremo winner does not wish to do so, the event organizers will have to select another artist for Vienna.
A translation of the post on RAI's Eurovision Song Contest Italia facebook page reads as follows:
(Rules of Sanremo 2015 – 65th Italian Song Festival, Art. 27, paragraph II) "The Artist winner of the Campioni (Big Artists) section will be entitled to participate in the representation of Italy in the 2015 edition of the Eurovision Song Contest. In case they (i.e. the winner) do not wish to make use of this opportunity, the organizers of this event will reserve the right to choose the participants according to their own criteria."
Italy was one of the seven countries to participate in the very first Eurovision Song Contest in 1956 whereas the Sanremo Song Festival has often been cited as the inspiration for Eurovision itself. Since then, Rai has frequently used Sanremo for the selection of its Eurovision entry. Indeed, 1964 Eurovision winner Non Ho L' Éta is primarily remembered as a Sanremo winner by some Italians. However, it is only the ESC entrant artist that often gets selected through Sanremo and it is worth looking what the case has been since Italy's 2011 return to Eurovision after a fourteen year absence from the contest:
Raphael Gualazzi had won the 2011 Sanremo Newcomers category (as well as the Critics' Mia Martini Newcomers catergory) with his song Follia d'Amore (Madness of Love) before achieving second place with the same song in that year's Eurovision.
In 2012, Nina Zilli entered Sanremo with the song Per Sempre (For Ever). She had previously won the Mia Martini Critics Award, but did not win in the festival that year; it was by a special jury that the artist was selected to represent Italy in Baku. Nina Zilli went on to achieve ninth place in Eurovision 2012 with a different song, L' Amore È Femmina (Out of Love).
It was more of a straightforward selection in 2013 when the Sanremo Big Artists Category winner, Marco Mengoni singing L' Essenziale (The Essential), went on to achieve seventh place in the 2013 Eurovision Song Contest. This is the artist selection formula that RAI seems to be favouring for 2015.
This year's representative, Emma Marrone, despite having been the 2012 Sanremo Big Artists Category winner, did not participate in the Italian festival in 2014. The artist was instead selected independently by RAI and, singing La Mia Città (My Own City), finished 21st in this year's Eurovision. This was the worst placing for Italy in the contest to date.
What do you think of the Italian entries since the country's return to Eurovision? You can watch them again in the following videos.
You might also want to read: