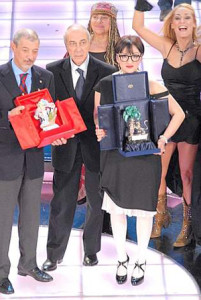 It was an eventful evening in the Teatro Ariston on Friday. Arisa won the Proposte, while Al Bano was voted back into the festival after being eliminated on the second evening. Iva Zanicchi was not so lucky.
The main event of the fourth evening of the 59th Sanremo festival was the conclusion of the Proposte competition for new artists. A combination of votes from three different sources put Arisa and her song Sincerità (Sincerity) above her nine rivals. Journalists accredited to the festival and representatives from the radio industry each had a proportion of 25% of the total votes. The final 50% was in the hands of the Italian public. It was a very successful evening for Arisa, as she also won the critics prize, which is named after Mia Martini, who Arisa cites a one of her influences.
Speaking after her victory, Arisa paid tribute to her parents, "I have realised my dream: to sing at the Sanremo Festival. Then, after everything else that has happened, this was a gift from the earth and the sky. I am very happy for my parents, who have lived, and are still living humble lives. They deserve this."
The other business of the evening saw al the Artisti contenders singing duets with established stars. All of the twelve remaining acts were singing to stay in the festival. This included Al Bano, who, after being eliminated on the second evening, together with two others acts had been voted back into the festival on Thursday's third evening. Iva Zanicchi, who had been eliminated on the first evening of the festival, failed to be voted back. The other Artisti voted back into the festival with Al Bano was Sal da Vinci.
For the final evening, twelve had to become ten and so, the last task of Friday evening was to eliminate two of the acts. Their futures were in the hands of the resident giuria demoscopica and the members of the orchestra, who each had 50% of the vote. The acts with the lowest votes and eliminated from the festival were Dolcenera with Il Mio Amore Unico and hip-hop group Gemelli Diversi with Vivi per un Miracolo. The remaining ten acts will compete in Saturday's Ultima Serata to be the 59th winner of the Sanremo Festival.
Links