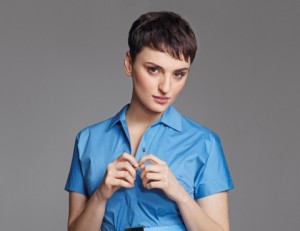 Arisa, who is co-hosting Sanremo with Emma Marrone, has said that she would love to participate in Eurovision if the winner of Sanremo isn't interested. She was openly annoyed last year when RAI internally selected Emma and not the winner of Sanremo. 
Last year Arisa tweeted her disappointment with not being asked to go to to Eurovision to represent Italy. This year she is making sure that no one is in doubt that this is what she wants to do. As a co-host of the show she simply used her time on air to announce that she wants to do it, if the winner isn't interested. 
This begs the question even more, Will the winner of Sanremo or will Arisa represent Italy? Or could someone else be chosen?
From the beginning of the festival it was known that the winner of Sanremo would have the right to represent Italy in the 60th Eurovision Song Contest. After Arisa's announcements on her social media we all have to wait more anxious until Saturday night to find out who will be the one that will fly the Italian flag in Vienna.
Last night was the first day of the competition and despite the fact that Lara Fabian was one of the superstars of the night, but didn't manage to be in the first six places of the televoting and now faces elimination. Italian bloggs says that Nesli won the televote last night, but that's not officially known. Sanremo continues tonight with the last remaining ten acts to perform.
Conchita Wurst will also be there as an interval act. In many polls it seems that Nek with Fatti Avanti Amore is the favourite to win Sanremo 2015 and represent Italy in the upcoming Eurovision Song Contest.
You can watch his song below: