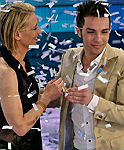 Marco Carta has won the 59th Sanremo festival with the song, La Forza Mia, which he also wrote. His victory was decided with a combination of votes from a jury and the public.
Before any of the ten remaining Artisti performed, the other six having been eliminated earlier in the week, the winner of the Proposte section, Arisa, reprised her winning song, Sincerità. Unlike the voting for the Proposte, where the accredited  journalists and radio representatives had say, the Artisti winner would be decided by the votes of the giuria demoscopica (the in-house jury made up of people covering a mix of ages and backgrounds) and a public phone vote. Each would contribute 50% towards the total votes.
To add a bit more tension, the top three acts after the first round of voting would face another vote in a 'sing-off'. The giuria demoscopica and public would again nave a 50% say in the outright winner. After all ten songs had been performed, the top three were revealed and made for interesting viewing. Marco Carta would be up against Povia, the man whose song, Luca Era Gay, had caused all the controversy in the build up to the festival, and Sal da Vinci. Sal and his song, Non Riesco a Farti Innamorare had been voted out of the festival on the second evening and was only participating on the final evening after being voted back into the festival on Thursday's third evening.  In an effort to defend himself and the theme of his song, and perhaps to demonstrate that he isn't anti-gay (which he has been accused of by gay rights groups), Povia brought with him on to the stage a placard with the words 'everyone defend your truth'.
Before the winner was announced, the winners of the Mia Martini critic's prize were given their trophy. The winners this year were Afterhours, 'the aliens of the festival', for their song, Il Paese è Reale. This is also an interesting result as they had been voted out of the festival on the first evening.
The results were given in reverse order. Sal da Vinci was third and Povia second. This left a very happy Marco Carta as the winner of the festival.
You can watch the top three songs below. Sal da Vinci's performance is from Thursday, when all the songs were performed as duets. Sal is singing with Gigi D'Alessio, one of the writers of the song.