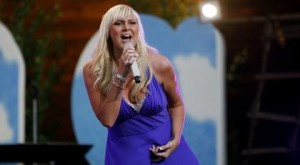 Within the past few months both Richard Herrey and Charlotte Perrelli have announced that their marriages have come to an end. Swedish media outlets are speculating that Sanna Nielsen will be the next one after she showed up to a performance on Tuesday evening without her engagement ring.
Sanna Nielsen herself has always aimed to keep her private life outside the realm of the media and neither she nor her partner, musician Gudmund Ingwell, wants to explain anything about the missing ring and the status of their relationship. Sanna Nielsen has said though that right now it is extra important for her that her private life stays private.
Sanna Nielsen and Gudmund Ingwell got engaged two years ago in Las Vegas. It was at her performance Tuesday evening at Allsång på Skansen that she appeared without the ring. Sanna Nielsen won the televoting at this year's Swedish final, but lost the ticket to Belgrade due to the jury's preferring Charlotte Perrelli's Hero over Sanna's Empty Room.