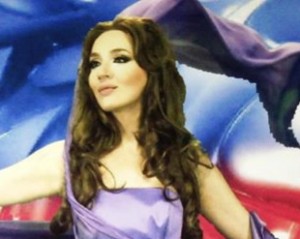 Sabina Babayeva represented Azerbaijan at the 2012 Eurovision Song Contest in Baku. Now she is back with her brand new single and video, Ey Azerbaycanim. The video is like a travelogue showing many sites and the scenic country side of Azerbaijan.
Sabina Babayeva had the honour of representing the host country of the 2012 Eurovision Song Contest, Azerbaijan. Her ballad song, When The Music Dies, eventually finished in fourth place in Baku. She has appeared in several music competition both at home and abroad.
Before being selected in 2012 to represent her country she had previously tried to take part for her country each year since 2008. Sabina first became famous by singing the theme to a popular tv show, Bayaz Hayat. The song was called Roya kimi. Sabina also recorded a duet with the Georgian singer from the 2012 Eurovision, Anri Jokhadze, Sikhvarulis tamashi.
Now Sabina returns with Ey Azerbaycanım (Oh Azerbaijan). The song is composed by Mikayil Vakilov and Malik Farrux. The video is very nationalistic and shows many beautiful sites of Azerbaijan. The song is also quite anthemic.
You can see the video for Ey Azerbaycanim below.
You may also like to read –