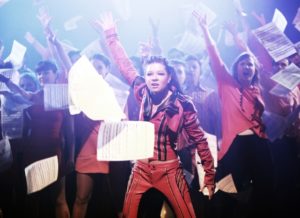 The winner of the 2004 Eurovision Song Contest, Ruslana, and the 2013 Ukrainian representative Zlata Ognevich are taking part in the local version of a talent show in the role of celebrity coaches. Each of them will be responsible for conducting one of the choirs as well as performing with them.
The Ukrainian version of the talent show Clash Of The Choirs has been premiered recently. It is an adaptation of the world famous American format which was created by Swedish choir leader and Melodifestivalen runner-up Caroline af Ugglas. The show has won the hearts of the audience all over the world having been adapted in fifteen countries.
Eight choirs with eight to fifteen participants each compete on stage supported by their coaches who are all well-known Ukrainian artists among whom are the experimented Ukrainian Eurovision winner Ruslana and the 2013 representative Zlata Ognevich.
The producers of the project promised to change the perception of Ukrainian choral singing and to prove that choirs are "stylish, trendy and modern".
In preparation for the show, Ruslana and Zlata have visited several children's music schools during the auditions and they have been talking to the little talented singers about how is the experience of singing on a big stage.
This won't be Ruslana's first time working with choirs. She gratuated at the L'viv Music Academy as choral conductor and she was among the students of the prominent Ukrainian conductor Mykola Kolessa who is considered as the father of the Ukrainian Choral Conducting School. Ruslana has also demonstrated her skills as a conductor several times such as in 1998 during her tour across the castles of Ukraine, at the opening ceremony of the Tavria Games or within the celebration of the 750th anniversary of her hometown L'viv.
The show is broadcast every Sunday on the TV channel 1+1.
In the videos below you can watch a brief trailer of the show and a small glimpse of Zlata Ognevich first performance.
You might also like to read: