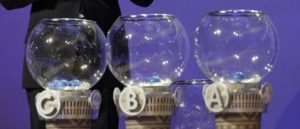 We already know which songs will be performing in which semi-final and where the big4 countries will be voting, but before we can really start to speculate on who will be in for a good chance of winning the whole thing in Moscow we need to know the running order. That will be decided Monday afternoon.
Various bookmakers offers low odds on a Norwegian or Greek victory making them favourites to win the 2009 Eurovision Song Contest followed by countries like Malta, Montenegro, Turkey and Azerbaijan. Fans see possibilities in Denmark, United Kingdom and Bosnia as well. Fact is that it appears to be a very open competition this year, but the running order might be able to guide us in the right direction.
One draw has already taken place this year dividing 38 countries in two semi-finals plus allocating the big4 countries plus host country Russia two each their semi-final where they will be voting. Since that Georgia has announced that it will not participant in Moscow leaving only 18 countries in the first semi-final fighting for the 10 tickets to the final. Tomorrow afternoon it will be decided in which order the 37 semi-finalists will perform and which starting position in the final the five pre qualified countries will have.
Most countries will be hoping for a late start as this has proven to be somehow an advantage – at least in the final. In the last ten years, 1999 to 2008, it has only happened twice that the winning song came from a starting position in the first half. For the semi-finals it is however not so clear. In the first semi-final in 2008 7 out of the 10 qualifying countries did perform in the second half, but in the second semi-final it was more equal with a 5-5 between the two halves. In 2007 which was the last year with just one semi-final it was also equal, while in 2006 it was again an advantage to be in the second half as 7 of the 10 qualifiers came from here. The year before 6 out of the 10 tickets for the final were given to countries from the second half which was also the situation in 2004.
Where a late starting position gives a clear advantage for the final it is not nearly the same for the semi-finals all though we do see examples of this half taking 7 of the 10 final tickets. As it is never the case that most qualifiers come from the first half a late starting position is generally wanted by most.
The draw will take place at 16:00 CET and can be watched on the official site, eurovision.tv. EuroVisionary will bring you the result shortly after it is known and will also provide you with an analysm of what it will mean for the outcome of the 2009 Eurovision Song Contest.