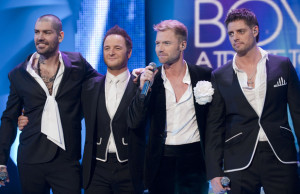 Co-host of the 1997 Eurovision Song Contest and co-writer of Denmark's 2009 Eurovision song 'Believe again' has announced that he is reforming with the three remaining members of Boyzone for a series of 20th anniversary gigs.  Tickets will go on sale on 14 February.
Boyzone were a huge boyband in the the second half of the 1990s and one of Ireland's biggest exports.  Twelve of the songs made No.1 around the world, including No matter what, Words, When the going gets tough and Gave it all away.  There succes was such that they had sold an estimated 20 million records by 2010.  Tragically, they suffered the loss of Stephen Gately in 2009 in Majorca.  Boyzone briefly reformed in 2010, releasing an album Brother, dedicated to Stephen.
The remaining four members (Keating, Mikey Craig, Stephen Duffy and Shane Lynch) will be playing a series of gigs in 2013.  Tickets will go one sale on Valentine's Day, with news of the tour dates and venues to follow soon.
Front man Ronan Keating has several Eurovision credits to his name.  In 1997, the last time to date the contest was held in Ireland, he co-hosted the show from the Point Theatre in Dublin with actress and presenter Carrie Crowley.  Their year hosting saw the United Kingdom's Katrina & The Waves achieve a record score at the time with the winner Love shine a light.  Boyzone also features as the interval act with their song Let the message run free (video below).
In 2009, Keating submitted a song (co-written with Lars Halvor Jensen and Martin Michael Larsen) for the Danish Melodi Grand Prix with the song Believe again performed by Niels Brinck. The song won the competition in Herning and he went forward to the contest in Moscow.  Brinck made it through the semi-final and finished a creditable 13th in the Grand Final (video below).
More details of Boyzone's 20th anniversary tour will be announced soon. 
You might also want to read: 
Links