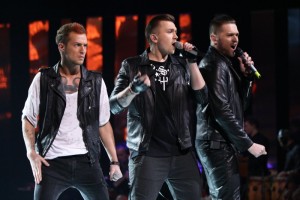 The second show of Eurovizijos was held last evening with the twelve artists performing cover versions of world hit songs. The band Rolikai was eliminated after scoring the lowest points from the combination of the jury and televote results.
The search for this year's Eurovision Lithuanian representative started last week with the official presentation of the twelve acts who will compete at the national selection.
Last evening was held the first elimination round of Eurovizijos, which was hosted by Simona Nainė and Arūnas Valinskas, and it featured the performances of the twelve selected artists singing cover versions of international hit songs.
1. Edgaras Lubys – Get Lucky
2. Mia – Chandelier
3. Tadas Juodsnukis – Here I Ago Again
4. Neringa Šiaudikytė – Euphoria
5. Vaidas Baumila – Hallelujah
6. Reda Striškaitė – If I Were A Boy
7. Liepa Mondeikaitė – What A Wonderful World
8. Band Rolikai – Let's Get Loud
9. Wilma La – Set Fire To The Rain
10. Monika Linkytė – Queen Of The Night
11. Jurgis Brūzga – Locked Out Of Heaven
12. Milita Daikerytė – Only Love Can Hurt Like This
At the end of the show, the jury votes and televotes from the first and second shows were combined and the band Rolikai was the act with the lowest score so they were eliminated from the national selection.
The Lithuanian panel consisted of Ramūnas Zilnys, Edmundas Seilius, Audrius Giržadas and Linas Adomaitis (former Lithuanian representative at the 2004 Eurovision Song Contest).
Next Saturday, each of the remaining artists will be performing for the very first time the potential Eurovision entries. The two artists and two songs with lowest scores will be eliminated but, as it was last year, the artist and the song will be chosen separately. That means that if an artist is eliminated it does not mean that the song that artist has performed is also out of the competition.
You might also like to read: