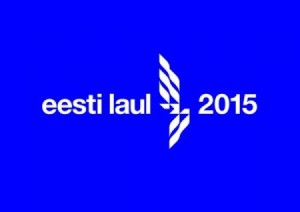 The national broadcaster ERR has published the 20 songs that will compete in the two semifinals of Eesti Laul, the show held every year to choose the country's representative in the Eurovision Song Contest. This year 219 applications were made for the national final scheduled for 21st of February
Below you can see the 20 candidate songs that are competing to represent Estonia at the 2015 Eurovision Song Contest, in order of appearance in the semifinals:
First semifinal-7 February

1. Karl, Erik Taukar – Päev korraga
2. Miina – Kohvitassi lugu
3. The Blurry Lane –  Exceptional
4. Liis Lemsalu & Egert Milder – Hold On
5. Airi Vipulkumar Kansar – Saatuse laul
6. Maia Vahtramäe – Üle vesihalli taeva
7. Robin Juhkental & The Big Bangers – Troubles
8. Elephants From Neptunen- Unriddle me
9. Elisa Kolk – Superlove
10. Bluestocking – Kordumatu
Second semifinal-14 February


1. Wilhelm – Light up your mind

2. Kruuv – Tiiu talu tütreke

3. Demie feat. Janice – Kuum

4. NimmerSchmidt – Kellega ma tutvusin?

5. Elina Born ja Stig Rästa – Goodbye to yesterday

6. Daniel Levi – Burning lights

7. Triin Niitoja & John4 – This is our choice

8. Kali Briis Band – Idiot

9. Luisa Värk – Minu päike

10. Mari – Kolm päeva tagasi
Five songs will go through from each semifinal (with 50% televoting and 50% jury vote). So a total of 10 songs on 21st of February to fight for the honour to be the 21st representative of the country in the competition, which will take place in May in Vienna.
You can hear all the songs here.