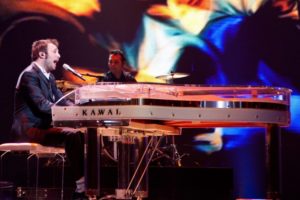 Things went impressively smoothly in getting the stage set up for the Italian act who were next on stage after France. Raphael's white / transparent grand piano with steel trim looks fabulous on stage, especially when accompanied by a huge contrabass!
The staging is very elegant, with images of the singer playing at his piano as well as other instruments appearing on the huge backdrop as they're being played. These images are interspersed with pictures of a mirrored keyboard of a piano with two pairs of hands playing, as well as a swirling, almost flame like effect in the colours of the Italian tricolor, red, white and green.
Raphael takes to the stage once more in a shiny black suit and white shirt opened at the collar without tie, to reinforce the relaxed, jazzy atmosphere. It's so refreshing to see an act who actually use their instruments on stage, and both the trumpet, saxophone, drums, contrabass and electric guitar come across great in the arena.
The act on the whole comes across as refined, sophisticated and elegant, in other words, just as can be expected from Italy. Raphael's voice has bags of character, not completely in tune but then he is a jazz singer after all and he delivers sound vocals in all three run throughs. A decent second rehearsal which the Italians should be satisfied with, although it was at times difficult to hear exactly which parts of the song were sung in English and which were sung in Italian.
In my view
It's hard to say where this will end up in the pack on the actual night. As we have seen earlier, almost anything goes at Eurovision, but has Italy upon its return chosen to go with something simply too contrived?

The opinion expressed in "In my view" are those of the author and are not necessarily the one of EuroVisionary.com.