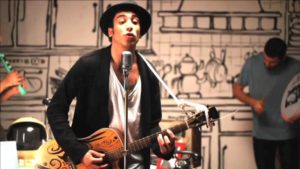 After the news about Can Bonomo who will be representing Turkey has had time to settle it is time to look at the reactions. They are mainly positive towards, but critisms is being raised as well… At the same time it is also reported in Turkish media that the actual song is to be announced on February.
Earlier in the week, EuroVisionary exclusively announced that Can Bonomo is going to represent Turkey at the Eurovision Song Contest in Baku this year. The official statement was released later in a news programme on TRT1 by the Turkish national broadcaster. In that programme, Can told his excitement to have the honour of representing the country: "After the first five minutes, my legs started to shake, I couldn't do anything what I want for a while". Later on in that programme, he continued talking about his thoughts and plans at the contest: I will try to stay in my line which my fans like, I will of course use some ethnic elements with tomtom, violin and some other Turkish enstruments as i have used on my previous album. After the commentator's question about the language of the song he said it will it be either Turkish or English or most likely a mix, Can told that he had many plans in his head and will start to work soon, which he expects to last around a month but of course the concept will be indie/pop style which will be more about love, friendship and et cetera. 
In the Turkish media reactions have been split up. The most common thoughts about Can is that he is a quality newbie who can represent Turkey succesfully in Baku. On the other hand, this newbie talent is not that known by the public and TRT have ignored the poll once again resulting in another failure to this country.
An expert media name is Cüneyt Özdemir who currently works for CNNTürk, was quoted in twitter by saying: "Is this only me not knowing Can Bonomo?" and he continued his heavy critisms: "I wonder about the moneyboss in TRT who backed him to be picked." Another celebrity/media name Ömür Gedik via her twitter, congrates Can Bonomo for his enthuaism which will definately bring the success of his career in Baku.
Some fans back Cüneyt Özdemir, agreing with him on the public knowledge situation as this young representative is not experienced on stage. Can Bonomo is not well known because public decision always has an aim to the well known names who usually bring cheap work – and those names have been in play for the contest in the country every-year. Generally, positive comments sweeped the negative ones, which means Can will get the public support so soon as he has already entered to the Worldwide list of Twitter in a couple of hours later he announced by TRT. 
The only Turkish winner, Sertab Erener, also commented on Turkish representative name. She told to media: I would personally like to see maNga once again. I don't know Bonomo very well but he is a fine musician. These comments on Turkish representatives are asked everyyear, I hope he wins and breaks the devil's leg that you won't ask for my comments anymore."
It is also reported that Can Bonomo's song will be presented to the public in February, most likely on February 10th.