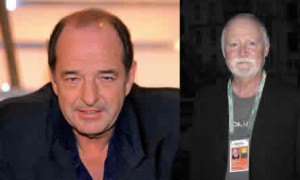 Rumours are saying that the song chosen to represent Montenegro in Moscow is written by the well known German songwriter duo Siegel and Meinunger together with the president of OGAE Spain Jose Juan Santana Rodriques.
Andrea Demirović will be representing Montenegro with the song Just Get Out Of My Life. Officially it is listed to be written by Jose Juan Santana Rodriques and Peter Match. The lyrics are suppose to be written by Gunvor Johansen.
Rodriques is president of OGAE Spain and is also behind one of the songs in the Andorra selection and one of the songs for Spain. The two other songwriters are however quite a mystery. Oikotimes.com is reporting that the two Nordic sounding names are pseudonyms for Ralph Siegel and Berndt Meinunger. This is however not yet confirmed by any of the involved songwriters.
 
Ralph Siegel has participated 18 times before in the Eurovision Song Contest, most of them together with Berndt Meinunger. Their last entry was in 2006 for Switzerland where Six4One finished 16th with the song If We All Give A Little. Ralph Siegel and Berndt Meinunger have only won once before, in 1982 for home country Germany where Nicole won with Ein bißchen Frieden.
 
Below is a list of Ralph Siegel's Eurovision Song contest entries so far:
1974: Bye, Bye I Love You – Ireen Sheer
1976: Sing Sang Song – Les Humphries Singers
1979: Dschinghis Khan – Dschinghis Khan
1980: Papa Pingouin – Sophie & Magaly
1980: Theater – Katja Ebstein
1981: Johnny Blue – Lena Valaitis
1982: Ein bißchen Frieden – Nicole
1985: Children, Kinder, Enfants – Margo, Ireen Sheer, Chris Roberts, Malcolm Roberts, Franck Olivier & Diane Solomon
1987: Laß die Sonne in Dein Herz – Wind
1988: Lied für einen Freund – Maxi & Chris Garden
1990: Frei zu leben – Chris Kempers & Daniel Kovac
1992: Träume sind für alle – Wind
1994: Wir geben 'ne Party – Mekado
1997: Zeit – Bianca Shomburg
1999: Reise nach Jerusalem – Sürpriz
2002: I Can't Live Without Music – Corinna May
2003: Let's Get Happy – Lou
2006: If We All Give A Little – Six4one
Soon we will know if 2009 is indeed also to be added to that list.