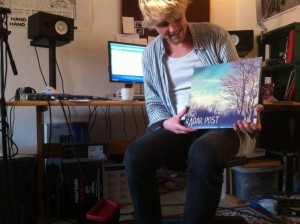 Under the title The Radar Post, Esben Svane, who represented Denmark at the 2011 Eurovision Song Contest as drummer in the band A Friend In London, has just released his first album. The album contains 11 songs all in English and several of them have hit potential.
It came as a surprise to many fans when two members of A Friend In London left the band in spring 2013, one of them being drummer Esben Svane. In January 2014 it was officially over for the band that represented Denmark at the Eurovision Song Contest in 2011 and reached a 5th position with the song New Tomorrow. Later lead singer Tim Schou told openly that they split up as they musically wanted something else. He was pulling them in a more pop direction than the rest wanted.
Esben has released two solo EP's before he started the new project The Radar Post. The album which contains 11 songs was released on the 20th of April, and will be followed by an official release party in Copenhagen, Denmark on the 30th.
The album, that is available for purchase now and can also be heard as stream, has received rather good reviews so far, which shows that Esben might just be on the right track now. Compared to A Friend In London this album offers a bit more rock, and quite some of the songs have a more melancholic sound to them.
Track list:
Foreword
Nothing's Holding You Back
Undercover
Wear Your Head Off
Traces
You Got My Back
Sweater
Cooking Up Something
Duck Valley
Rush Of Fame
Get Up! Get Out!
Background articles:
Below you can see the video for the first single You Got My Back and a link to streaming of the album.
Links