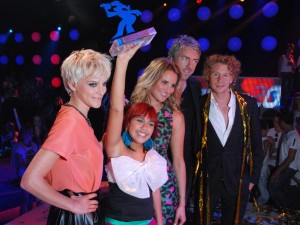 Rachel Traets has won the ticket to represent the Netherlands at the 2011 Junior Eurovision Song Contest in Yerevan, Armenia on 3 December.  Rachel came first out of 5 acts in the national final with the song, Ik Ben Een Teenager (I am a Teenager).
Rachel is 13 years old and is from Wouw in the Netherlands.  Rachel received the maxium amount of points available in the final.  The voting consisted of an expert music jury, a kids jury and also televoting.
The final was made up of 5 participants.  4 acts had qualified from semi finals and the 5th act was a wildcard.  Here is the order of how the voting concluded for the final –
1. Rachel Ik ben een Teenager
2. Yassir Beautiful
3. Lidewei Dit is wat ik wil
4. Joël Ik denk aan jou
5. Sera Never Give Up
You can see Rachel's performance below.