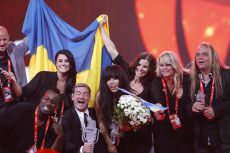 Shortly after her euphoric victory, Loreen made her grand entrance into the press arena to answer questions from the international press, curious to learn more about the act that had managed to make its way to the top of the scoreboard this year. Journalists from around the globe were present to hear what Loreen had to say for herself.
This year both fans and juries united in declaring Loreen the winner of this year's Eurovision song contest. Despite a scramble for points by both Russia and Serbia, nothing proved strong enough to break the stranglehold that Sweden and Loreen had over European TV viewers this evening.  Eurovisionary was present at the conference shortly after her triumphant winning reprise and these are the questions and answers that were given during the conference.
Loreen first was given the opportunity to give a message to all of her fans and those who voted for her. She took the time to thank everybody from her heart for believing in her, but was also quick to point out that the victory was not just about her.
Sweden: You've been under a lot of pressure, how did you manage to focus?
Loreen: I slept a lot, I ate a lot, I tried not to think about this performance as something that we made together. She says that she was the shy type. Thank you to the Swedish audience for giving this song a chance, because it's different.
Poland: Swedish is known as a promoter of human rights. Last night you had some troubles during your performance. You were stressed and not too uncomfortable about this. To the composer: would you write songs for other countries.
Loreen: Shit happens, I swallowed my snow. Peter Boström: Stay by Tooji is not as beautiful as Pastora Soler, but we'll definitely consider offers.
Azerbaijan: Congratulations. Who was the first to congratulate you from Sweden?
Loreen: My crew and my family. My mother, you saw her.
Australia: Can you tell us about the influence on your music by Mirage (an Australian musician)?
Loreen: She is an amazing artist, sings from the heart. Most of her songs don't have lyrics, words don't exist, she has a unisex voice.
Sweden: Thank you for brining back the competition to Sweden. How would you describe Sweden and what is your favourite Swedish word.
Loreen: Organisk. That means organic. We have lots of nature, pure air and water. We have a lot of beautiful things in Sweden.
Azerbaijan: Society in Azerbaiajan has been very supportive of you – will you support them asnd
how?
Loreen: They are smart, friendly, have integrity. I will support then in any way you want.
Azerbaijan: How many years would you want Euphoria to stay in people's hearts?
Loreen: Forever, as long as you like.
Sweden: What went through your mind in the green room?
Loreen: So many emotions, almost like a vaccuum. All of a sudden it was like time stopped.
Loreen's mother entered the room and took a seat at the podium.
Azerbaijan: You had number 17 and you also received 12 sets of 12 points. is it a lucky number for
you now?
Loreen: I think I'll keep 17 as my lucky number, although I got 18 sets of 12 points!
Netherlands: The Netherlands have not reached the final for years. What is the recipe for
a winning song.
Loreen: Be yourself, stay true to yourself. I can't believe what has just happened. I feel euphoric.
Germany: Where will it be held. Lena defended her title last year, will you do the same?
Loreen: I don't know, we'll talk about that later. Eurovision 2013 will be in Sweden, we will be very, very proud to host it, we have numerous cities and arenas to host, so we will see.
Azerbaijan: When you return, and if someone asks what you think of Azerbaijan, what will you say?
Loreen: Great food, really nice people. Christer Björkman thanked on behalf of the delegation for their overwhelming hospitality.
Azerbaijan: When people watched, when bookmakers claimed you'd win – this has often gone wrong. The bookmakers were right this year, so will you buy a stake in a bookmaker?
Loreen: I don't know, perhaps this time I will. We'll just go on singing.
Ukraine: All Swedish artists to take part are very famous – are you going to become as famous
as ABBA?
Loreen: Wow, good question! I'll just continue to do good music, working with these guys. Was that a good answer?
Azerbaijan: What will yuou take with you besides victory?
Loreen: Wow.I will probably take with me all of the connections I've made. I'm a people's person, they mean a lot to me.
France: Did you have any doubts about winning?
Loreen: No, I've never taken things for granted. I did not imagine that this could happen. Anggun is a great singer, a great vocalist. Thank you.
Russia: How does it feel to beat the Babushkas?
Loreen: It feels great to win, I love the babushkas very much. Party yeah, I will party in my own way. Being with my people and I will get some sleep!
Jan Ola Sand enters and takes place on the podium.
Jan Ola handed over papers and invited the Swedish delegation to Geneva in preparation for hosting the contest. He promised help and support from the EBU in any way they can. The work and planning starts now. A meeting will take place in mid June. He praised Sweden and SVT for the hard work thay have put in to promoting their national selection. Congratulations!
Christer Björkman told of how proud they were, how he has worked with the format of Melodifestivalen over the last years. He poes and thinks that the whole of Sweden are out dancing in the streets and celebrating their victory. He confirmed that Sweden will indeed host the 2013 contest.
Austria: Thank you for your support for human rights. What does your dance mean? Is there any inspiration?
Loreen: The dance represents freedom, move however you feel like that there are no rules. Not to think so much and to be whoever you want to be.
Ukraine: What was wrong with Gaitana tonight?
Loreen: There's nothing wrong with her at all. We are all winners, it's just a question of taste. You'll never know what happens next year.