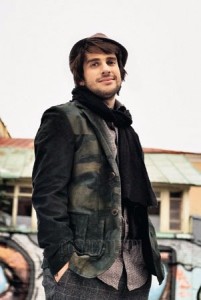 Rehearsals started earlier today, and so everyone has had to start working. Some of them needed to get up very early this morning. The first rehearsal began at 9.30am Oslo time. Peter Nalitch was the second to get his first rehearsal out of the way.
Peter sang several times during his rehearsal. The first was sound, so in that case we could see people from the team or organisation standing on the stage and walking arond. After that we saw just a performers. There were six of them, the maximum that is allowed on stage. There was Peter, the singer, three guitar players, a keyboard player and a drummer.
At the begining of the performance it was blue light at the background, then started the white one, centering the performers on the stage. there were special effects, like seeing the snow on stage and during his singing in some intervals.  He had a picture in his hand which he looked at during the song, and at the end he threw it on the ground. They were dressed up casually, not the clothes that they will wear at the dress rehersal and live show.
It was nice atmosphere, they were telling some jokes with the rest of the team, and peter was so positive on the stage, just smiling and doing some funny sounds with his voice. In the arena there was some audience or better say the viewers who watched the show and supporting with the aplause at the end of every song.
Some of the people were warned to move from the front of the stage because they were getting in the way of the shot of the camera crane. The last rehersal was at 10:40 am, and then they left the stage, showing the pleasure of a successful rehearsal.