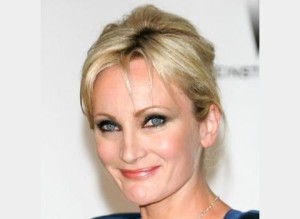 Rumours have surfaced suggesting that Patricia Kaas will represent France in the 2009 Eurovision Song Contest. She is known as one of the most successful French singers.
According to these rumours, after Greece, Turkey and the United Kingdom have confirmed big name invlovement in the contest, the French delegation has announced another big name, Patricia Kaas, for the 2009 Eurovision Song Contest. Patricia is known as one of the most successful French singers ever and returns to the international spotlight after taking an extended break from her solo career in 2005.
Patricia Kaas was born in Forbach (Lorraine) in 1966 and she started her career when she was just 13. Actor Gérard Dépardieu discovered her and produced her first single in 1985. Three years later, her first album was released. It reached number two in the French charts and so began her successful career.
Kaas is one of the most successful French language singers in the world. Her musical style is not classical French chanson, but it combines pop music, jazz and chanson. Since her debut album Mademoiselle chante… was released in 1988, Patricia has sold in excess of 17 million records all over the world. Her biggest success came with her third album, Je te dis vous, which charted in Germany, Switzerland, Holland, Belgium, Canada, Sweden, Russia, Finland, and Korea. Patricia made her film debut in And now… Ladies and Gentlemen, where she worked alongside Jeremy Irons.
All eight of her albums, including a live album, made the top ten in the album charts. February will see the release of her new CD, Kabaret, which is apparantely a tribute to the 1930's music. The albums are recorded in German, French and English. In 2005, she got a taste of the Eurovision experience when she performed as a guest during the German national final.
No information is known about either the writers of the song or the song itself. One thing is confirmed, that the song will sung in French at the 2009 Eurovision Song Contest.
Below, you can watch two of her videos. The second one is Quand J'Ai Peur De Tout, which was written by Diane Warren, who was announced yesterday as the lyricist of the United Kingdom song.
http://uk.youtube.com/watch?v=wdLDxtGONyI