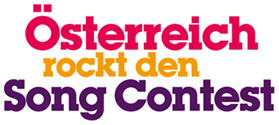 2011 was the last time Austria reached the final of the Eurovision Song Contest with Nadine Beiler. A fresh, modern rap entry last year by Trackshittaz failed to secure Austria a spot in the final for a second consecutive year, but ORF are now determined to change that as they open for the submission of potential candidates for Malmö.
Under the slogan Österreich rockt den Song Contest, Austrian boradcaster ORF hope to change their varying fortunes at next year's Eurovision Song Contest as they open for submissions for next year's national selection. ORF plan to take a different approach at selecting their entry for Malmö, in an attempt to attract a younger audience. The victory of Trackshittaz in 2012 no doubt helped to generate interest among younger viewers, and the Austrians are aiming to develop the concept further.
All hopefull candidates are invited to send in an mp3 to the broadcaster – there are no restrictions in the rules of submission concerning format of the song – ORF are requesting both completed songs as well as voice samples to be submitted to them at this stage. In accordance with general rules of the EBU, any submitted entries may not have been published prior to the 1st of September, should not be longer than three minutes and have to be performed live on the night of the final. The artist or artists performing their entry must not number more than six on stage and all perfomers have to have turned sixteen by the time of the national final.
A professional jury will review all submissions in order to select those fortunate enough to win a place in the national final, which has now been confirmed for the 15th of February. Certain Eurovision sites are stating that a total of five acts will perform in the final line up, these details however remain to be verified by the broadcaster on their official website.
Nadine Beiler managed an 18th place for Austria at the 2011 Eurovision Song Contest with The Secret is Love, following a four year hiatus from the contest. Last year's entrants Trackshittaz came last in their respective semi final with Woki Mit Deim Popo so ORF have everything to win and nothing to lose with what will be their third consecutive entry in recent years at the contest.