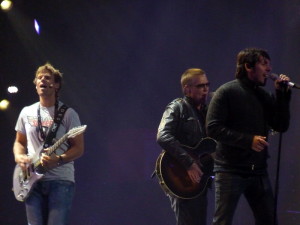 Next up after the powerballad from Austria is the Netherlands with their musical version of the Three Musketeers performing their anthemic pop-rock number giving a great contrast which should work in 3JS' favour.
The number is nicely staged, bathed in purple with yellow spotlights shining on the artists. The three backing singers stand towards the back of the stage, two women and a man with the guitarists (both called Jaap just to make things confusing) in front of them, with singer Jan at the front of the stage. As a group, their choreography was very static, with only the guitarists providing any real movement. Some great camera work involving a lot of circling on stage show the 3JS from all angles, making them just that bit more accessible.
The outfits of all on stage were non descript, with the three members of 3JS looking rather shabby – if this is an indication of their clothing choice on the actual night, then they could definitely be in the running for a Barbara Dex award!
During their first run throughs, the backing singers sounded decidedly hoarse in parts, with Jan also clearly struggling to hit the high notes before launching into the chorus. At times the voices of the backing singers were too overpowering, with Jan's vocals becoming completely lost. Vocally, the performance was far from perfect, but by no means bad. Depsite the shaky start, both singer and backing singers managed to redeem themselves and the song came together, building up nicely to become a very anthemic, rousing number that was very well received by all present (who presumably were overwhelmingly Dutch!)
In my view
Despite the vocal issues and static performance, the Netherlands 3JS are extremely competent and I have every faith that they will polish the act in time for their semi final show. This will hopefully give the Netherlands their first spot in the final since 2004, given the contrast between the acts performing both before and after (Austria and Belgium).

The opinion expressed in "In my view" are those of the author and are not necessarily the one of EuroVisionary.com.